Tossing The Caber
The Caber
(Compiled by J. Douglas Ross from several sources,

Heavy Events originated in Scotland during the reign of Malcolm Canmore (Ceann Mor = "big head") in the 12th century. King Malcolm discouraged the playing of golf in favour of practising activities related to the battlefield. Aside from archery, the oldest contests consisted of a Stone Put, Hammer Throw and Caber Toss. The king encouraged the formation of clans and competitions between rivals. Many believe that the Caber Toss came from the practice of throwing logs across the moat of a castle or placing logs for climbing when storming the walls. A more likely explanation is that it was a simple sport amongst foresters.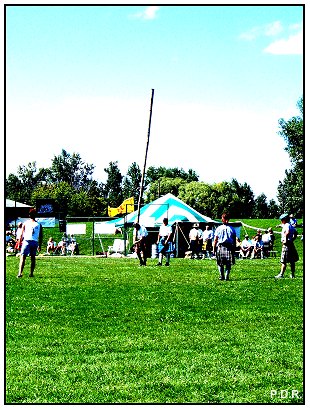 Centuries passed and, as the Highland Games became more popular, classifications were added for weight and height and distance as well as the more recent introduction of the favourite Canadian Sheaf Toss. There was little historical mention of Track-and-Field, a Tug-of-War or the Hill Race, but the most popular and exciting games list a complete array of contests. Nevertheless, the Caber Toss (or
cabar
in Gaelic, meaning "tree") is the best known icon of all.
Perhaps the Caber is best described as a baby telephone pole with a typical length of 18 feet (5.5 m) and average weight of 150 lb (68 kg), but sizes up to 25 feet (7.62 m) weighing 280 lb (127 kg) have been known in heavyweight competitions. The weight was often regulated before the games by soaking a dried caber in a nearby loch. If the caber was not thrown in certain heavyweight games, an old-fashioned crosscut saw was used by top competitors to saw a couple of centimetres from the pole until one of them accomplished the toss, although points may also be awarded for the number of degrees a caber rotated if it was short of the required 90 degrees (i.e. a "Fifer").
A description of the Caber Toss is deceptively simple. The contestant must heft the pole into a perpendicular perfectly-balanced "walking" position from which it is tossed after a few steps forward. While style, timing and momentum play an important role, they are not part of the score. The distance that the caber is thrown does not matter either. The athlete tries to throw the caber through 90 degrees so that the heavy end strikes the ground and the narrower end ideally carries over in an arc and lands flat out from him/her at an imaginary 12 o'clock position. The main judge must make that call just at the precise moment the pole hits the ground. As noted, a "Fifer" is a term used by a second judge when the pole did not rotate through a full 90 degrees.
The most famous of the Highland Games is The Braemar Gathering, which became The Royal Highland Gathering in 1866. In the following photo, two contestants carry a standard Braemar Caber, 6 m (19.75 ft. long) and weighing 59.9 kg (132 lb), onto the field in Braemar while the Queen reviews the Canadian Massed Pipe and Drums Band from the Royal Box. [In 2006, H.M.Queen Elizabeth designated the yearly Nova Scotia International Tattoo as "Royal".]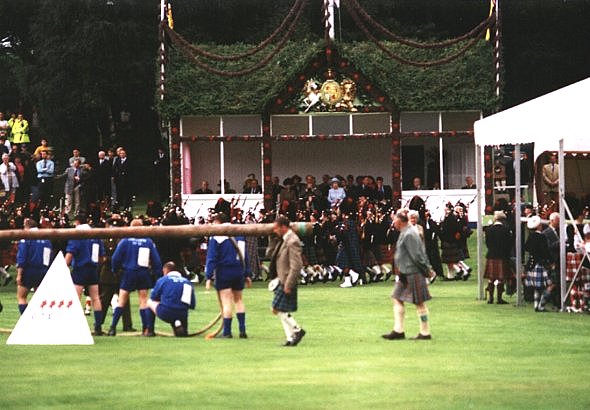 ---
SCOTLAND'S HISTORIC ALES


(A Taste-tested Christmas Present - 2006)
Scotland's national beverage may truly be Scotch Whisky, but another historic icon would have to be the fermented ales introduced by the Druids, Picts, Celts and Vikings (from as early as 2000 B.C. in the case of Scotland's native beer . . . Heather Ale). Besides, this topic gave me an opportunity to review applicable units of liquid measure such as the
firkin
(one-quarter of a barrel) and the
kilderkin
(one-half of a barrel); in today's terms, a kilderkin would be 41 litres or 9 imperial gallons or 10.8 of the smaller US gallons. All of the ales described below may be purchased by the firkin, but the percentage alcohol by volume is generally a bit lower than the bottled versions.
In case anyone is interested in setting up a party for those who might enjoy an ancient beer or twa, Pat and I enjoyed four of the five
Historic Scottish Ales
described at a webpage in the Links To All Things Scottish at our Clan Ross - Canada site. Both of us enjoyed the chilled, amber-coloured Fraoch or Heather Ale 5%abv most of all. The Kelpie or Seaweed Ale had the least alcohol by volume (4.4%), but it was omitted from the selection . . . probably because it was the least favourite due to its association with the salty sea breeze. It is said that Robbie Burns enjoyed the pale Grozet with his friends, and we would give it a close second in our choice since it was not too different from other 5%abv pale ales on the market . . . aside from its wee fruit aroma. The chilled Ebulum was a stronger dark ale (6.5%abv) fermented with ripe elderberries and retained a very wee bit of the fruit favour . . . which was said to be used at community gatherings in the Scottish Highlands for over seven centuries. Alba, best at room temperature, was the strongest ale at 7.5% alcohol by volume . . . and used (so it is said) by Captain Cook to prevent scurvy and illness on long voyages; Pat and I noted a slightly bitter aftertaste . . . possibly because we were not at sea and had a better selection of ales.
GROZET
(Gaelic for
gooseberry
): Lager malt is brewed with malt, bog myrtle, hops and meadowsweet. Then gooseberries are added for a second fermentation.
ALBA
(a name for Scotland at the time of the Viking raids): Sprigs of pine are boiled for several hours with malted barley during the early Spring. Then fresh shoots of spruce needles are briefly infused before the fermentation process.
FRAOCH
(Gaelic for
heather
): A boiling brew of malted barley, sweet gale and flowering heather produces a spicy aroma. It is cooled slightly, but poured while still hot into a vat containing fresh heather flowers . . . where it infuses for an hour before fermentation.
EBULUM
(derived from a term for
elderberries
and introduced by 9th century Druids): A 16th century recipe included roasted oats, barley, wheat and herbs, which were fermented with ripe elderberries.
KELPIE
(seaweed): The malted barley grown on seaweed beds produced interesting flavours in the ale and whisky made by coastal farmers at least 400 years ago.
Bladderwrack seaweed
was included with the barley in the mash, thus producing this dark ale.
The company, Heather Ale Limited, in order to promote consistency in the product, now picks their wild ingredients and freezes them for use throughout the year. These ingredients include heather, meadowsweet, pine, spruce, seaweed, elderberries and gooseberries.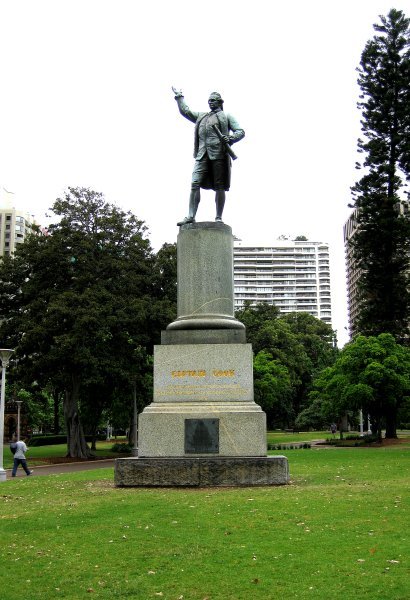 The preceding photo was taken in Hyde Park, Sydney, Australia, across the street from
Australian Museum
on a rainy day. The plaque states: "This statue was erected by public subscription assisted by a grant from the New South Wales Government. 1879".
One reference states, "Botany Bay is the place where Lieutenant James Cook landed in April 1770 -- there never was a Captain Cook on the Australian mainland, though he was a captain when he later visited Tasmania and New Zealand -- with his friends and crew on board the barque
Endeavour
. Two of his companions, Daniel Solander and Joseph Banks, were botanists, and they were entranced by the number of flowers blooming in what the calendar said was our late autumn. But while they were very good at collecting and identifying plants, the two were less effective in identifying good farming land."
---



The Drink That Satisfies





Drambuie
(From the Highlands and Islands Tour of 2007)



In 1746, Prince Charles Edward Stuart fled to the isle of Skye. There, he was given sanctuary by Captain John Mackinnon. After staying with the Captain, the prince rewarded him with the prized drink recipe for Drambuie. The original recipe was given in the late 19th century by Capt. MacKinnon to James Ross, who ran the Broadford Hotel on the Isle of Skye. James developed and improved the recipe (initially for his friends locally). It was one of these friends who coined the name, meaning "the drink that satisfies". Ross then sold it further afield even to France and the USA. It was Ross who patented it in London. Tragically he died young, and to pay for their children's education, his widow was obliged to sell the recipe, by coincidence to a different MacKinnon family, in the early 20th century. The Mackinnon family has been producing the drink ever since. The first commercial distribution of Drambuie in Edinburgh was in 1910. Only twelve cases were originally sold. In 1916, Drambuie became the first liqueur to be allowed in the cellars of the House of Lords, and Drambuie began to ship world wide to stationed British soldiers. In the 1980s, the producers of Drambuie began to advertise the liqueur.

MEMORIAL INSCRIPTION: Erected to/ the Memory of /James Ross/ Broadford, Skye/ by his/ Many Friends and/ Acquaintances/ as a Token of Their Esteem. 1845-1902.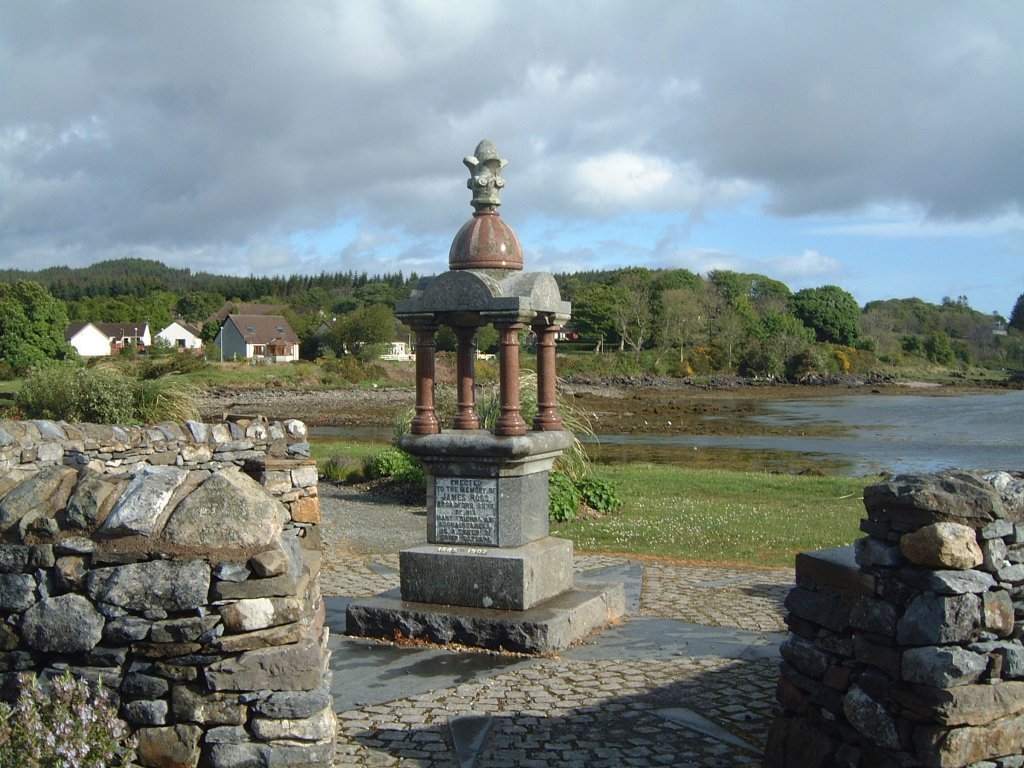 ---
The Ross Fountain
(From the Canadian Massed Pipes & Drums Tour of 2009)

The fountain was cast in iron by Durenne of Paris for an International Exhibition in Paris in 1862. When gunsmith Daniel Ross saw it, he purchased it and donated it to the City of Edinburgh in 1867. It was shipped to Leith in 122 pieces then transferred by road the three miles to Princes Street Gardens, Edinburgh. It was still awaiting assembly in Princes Street Gardens when Daniel Ross died in 1871.

The statue was described as "having 4 female figures ; seated between them semi-circular basins with consoles, surmounted by a standing figure above the basins and nymphs". An article in 1869 described it as "one of the most elaborate and ornate structures of its class in Europe".

In 1990 the fountain was restored so that it had flowing water.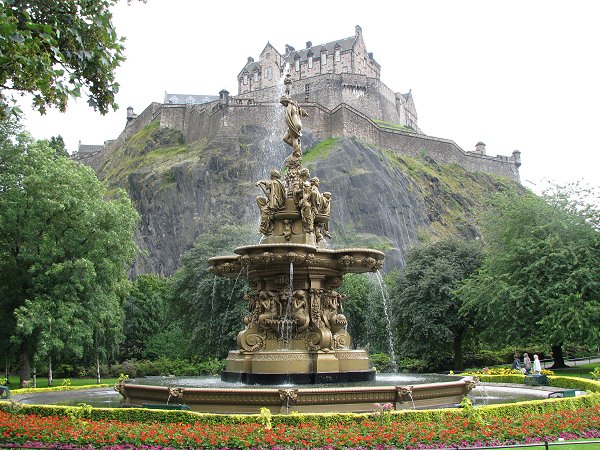 ---
The DNA Dichotomy

Compiled by Doug Ross from BBC News (mid-April, 2012)
Not your typical Scottish icon, an extraordinary east-west genetic divide was discovered in northern Scotland by Edinburgh University's Dr. Jim Wilson and St. Andrews University's Alistair Moffat. Not only did the study reveal proof of the ancient movement of people from Ireland to Scotland within the genetic signature, but they also concluded that "as many as 40% of the population on the Western Isles could have Viking ancestry, while no Viking ancestry was found in north east Scotland". In other words, they found a representative/characteristic symbol of the Scottish genealogical heritage of groups such as Clan Ross.

Where do we come from? Africa is the answer. "In 70,000 BC the Indonesian volcano known as Mount Toba blew itself apart in a super-colossal eruption that almost ended life on earth. As millions of tons of tephra, pumice and ash rocketed into the atmosphere and dense black clouds blocked the sun for several years, plants withered and the animals and people who depended on them died. Geography saved us from extinction. In the steep-sided rift valleys of Eastern Africa a remnant of perhaps only 5,000 human beings survived the nuclear horrors of the eruption. All of us are their descendants. Soon after the cataclysm of Toba, as the planet began to recover, a tiny group of only three or four hundred left the sanctuary of the rift valleys and walked northwards."

From a sample of saliva scientists can trace your ancestry. All you need to do is to visit Family Tree DNA on our page of Links To All Things Scottish for starters.
---
Clootie Dumpling
Auld Clootie's very best recipe.

Ingredients
4 cups flour (plain or self-rising)
1 3/4 cups dried currents or sultanas
1 2/3 cups raisins
1/4 pound shredded suet
1 cup white sugar (or Castor sugar which is slightly finer but not powdery)
1 cup dry bread crumbs (optional depending upon quantity of other dry ingredients)
1 egg, lightly scrambled
1/2 cup buttermilk (or plain milk)
1 tsp mixed spice
1 tsp ginger
1 tsp cinnamon
1 tsp baking powder
1 pinch salt or baking soda
1 grated apple (optional)
3 tsp molasses or corn syrup

Directions
1. Combine dry ingredients separately. Stir remaining combined ingredients into flour mixture to form a wet (but not soggy) dough.
2. Bring a large pot of water to a boil. Dip a muslin/heavy cotton cloth or tea-towel into hot water; wring out when cool.
3. Sprinkle flour into centre of the cloth. (Some add a wee layer of fine sugar over the flour.)
4. Place dough in centre of cloth, drawing corners together to form a ball (allowing room to expand). Tie tightly with string.
5. Place dumpling in hot water (a low boil) for 3 1/2 hours, controlling water level as required to cover dumpling. Remove the dumpling from the cloth on a plate and place in a 150 degree oven for 10 minutes (or until the surface is no longer wet).
6. Serve warm with custard as a dessert (or refried with bacon as a breakfast).

Back to Index

---
Mons Meg

The artillery maker for Duke Philip of Burgundy made the cannon from long bars of iron, hooped with rings and fused into one mass. It was tested at Mons in the Wallonia Region of Belgium in 1449. The Duke did not take delivery of it until 1453, and four years later he decided to help James II of Scotland by loaning it to him in his fight against the English and certain enemies in Scotland. James II died during the seige of Roxburgh Castle in 1460 when another of his cannons exploded.
The 20-inch (510mm) calibre Mons Meg was capable of blasting a 150kg gunstone for 3,2km (two miles), and it was at the cutting edge of military technology for the period. However, Mons Meg could only be fired eight to ten times a day due to the tremendous heat generated by the huge powder charge. Although James IV returned Mons Meg to active service during attacks on Dumbarton and Norham castles, she ended her fighting days in James V's royal navy until her retirement during the late 1540's.
Mons Meg was then fired only on ceremonial occasions from Edinburgh Castle. A salute on 3 July 1558, celebrated the marriage of Mary, Queen of Scots, to the French Dauphin, and the gunstone landed at Wardie Muir, now the Royal Botanic Garden. The gun was also fired in 1681 to celebrate the arrival of James, Duke of Albany and York (later King James II of England and VII of Scotland), but the barrel burst. The cannon was left outside of Foog's Gate at Edinburgh Castle until 1754, when it was carted to the Tower of London with other disused ordinance. After a campaign by the author Sir Walter Scott in 1829, Mons Meg was returned to Edinburgh Castle, and it now sits outside St. Margaret's Chapel.
Back to Index
---
A Mons Meg Gunstone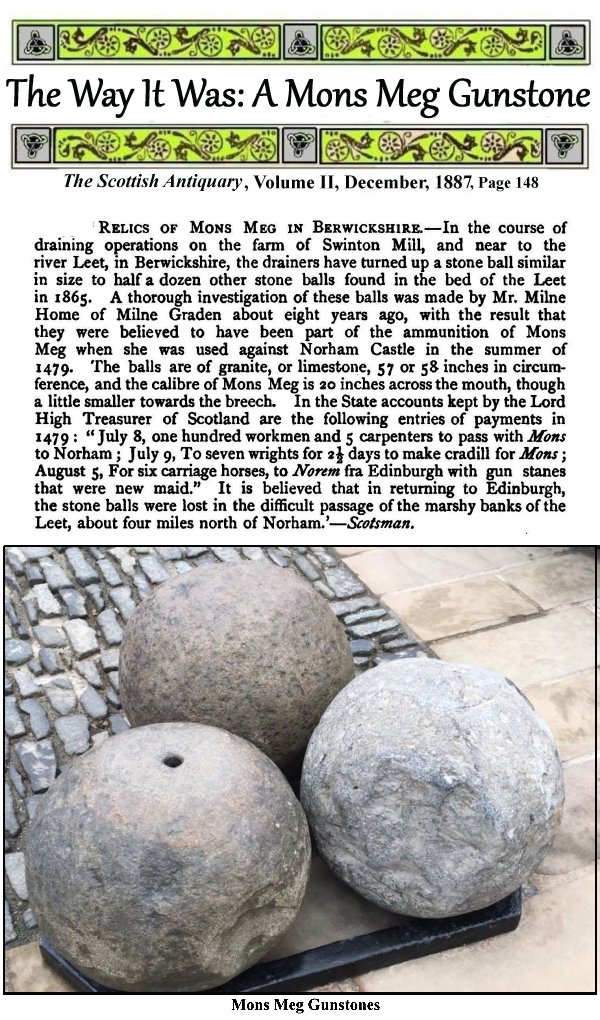 Back to Index
---