Scotland's official language is English. Scots is a collective term for several permutations of Scottish dialects known more broadly by their general regions of use in the country or, sometimes, more specifically by their occurence in cities ("Glesga" being an excellent example within the Central Region).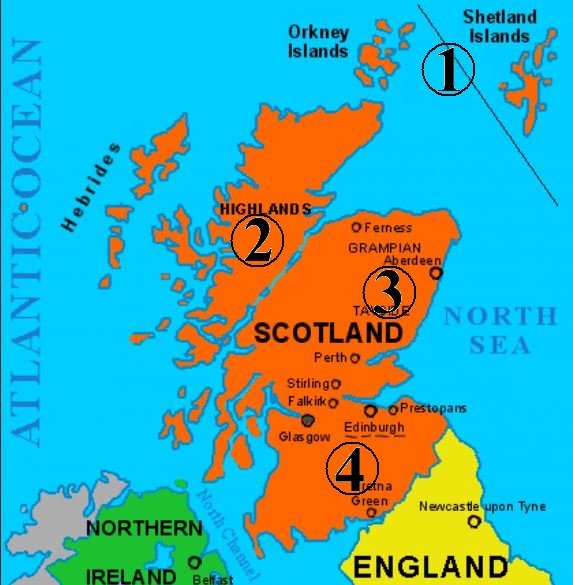 The Scots language, within scotland, consists of four major dialects first defined in the 1870's, which are referred to as (1)
Insular
, (2)
Northern
, (3)
Central
, and
Southern
as shown on the map to the right. It is correct to assume that each regional dialect is influenced by its neighbour, particularly along the borders.
The '
Insular
' dialects, some of the most colourful still in use, are found in the remote communities of Orkney and Shetland. '
Northern
' dialects such as Doric are located across Caithness, the North-east, Kincardine and Eastern Angus. The '
Central
' dialects, as noted, have many of their own variations of words and phrases. The '
Southern
' region is the greatly influenced by its neighbours to the south and the north.
Samples of the Scots language represented by the poetry of Robert Burns have been illustrated elsewhere on this website. Let us now take a look at some Scottish Doric poetry provided by George P. "Stoneywood" Dunbar in A Whiff o' the Doric printed in 1922. For each of his poems, I've provided a mini glossary of words and phrases at the end. As an introduction, he wrote: