5T4 50th REUNION
In Memory of Jean Euphemia (Ross) Ferguson
(1918.09.08 - 2003.09.23)
During our years at Old Vic, some will remember my cousin Jean, who served in the office as secretary of Dr. A.B.B.Moore, President and Vice-Chancellor of Victoria University. Following her retirement, she married Stewart James Ferguson and, after his death, she regularly performed voluntary service for the Alumni Office. Jean died at the Beach Arms Lodge and was acknowledged for her work in a recent
Vic Report
.
Click on the thumbnail photographs to obtain a larger version.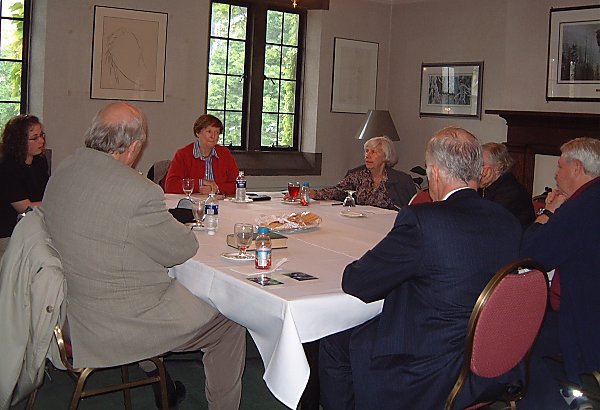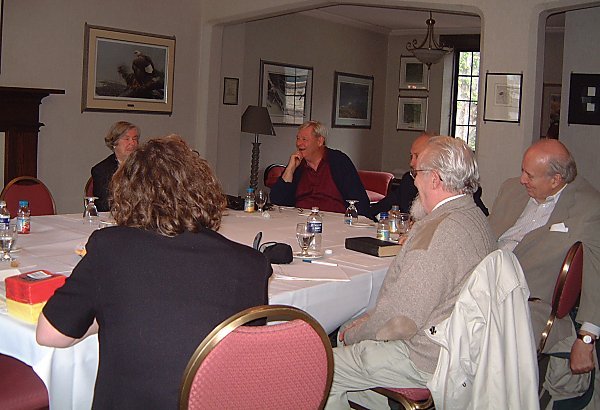 The final meeting of the Reunion Committee was on May 25, and most of the phoning and planning had been completed ... but there were some important final finishing touches to be accomplished. Thank goodness that Alison Broadworth from the Alumni Office was there to guide us to the very end. Our 5T4 President, Mr. Justice Dennis Lane, had not returned from a brief trip to Germany. Also absent from these pictures were Mr. Justice Jack Ground and Reverend Jim Kirkwood.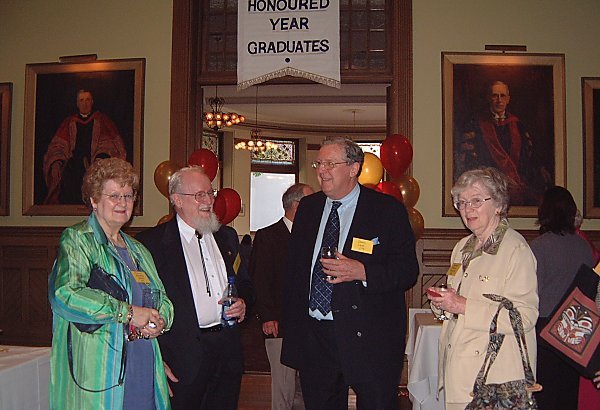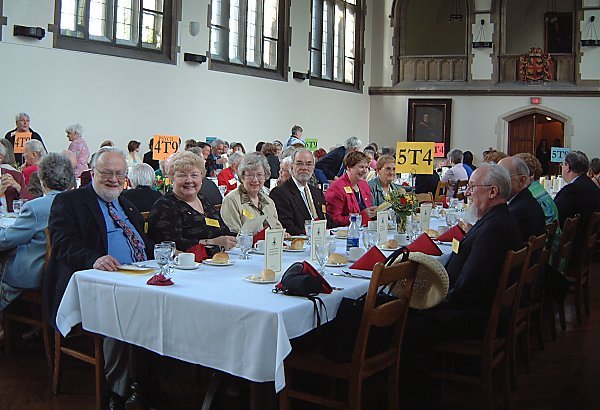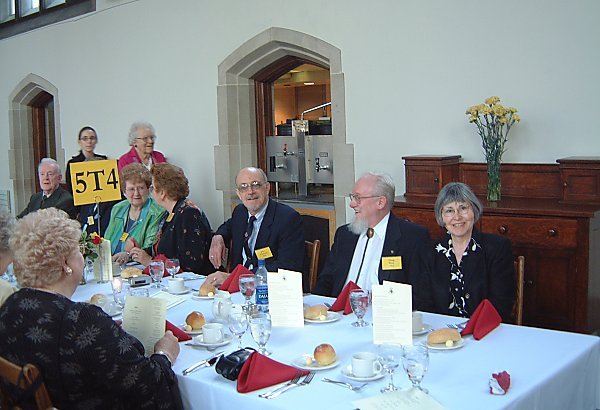 Our 5T4 president, Dennis Lane, had returned from Germany in time for the "Principal's Reception", and he is shown chatting with Marjorea (Gordon) Roblin, Doug Ross and Maureen (Watson) Moorfield. The remaining pictures show the members at the 5T4 table in Burwash Hall. President Dr. Paul W. Gooch presided over the reception in the absence of Principal Dr. David B. Cook.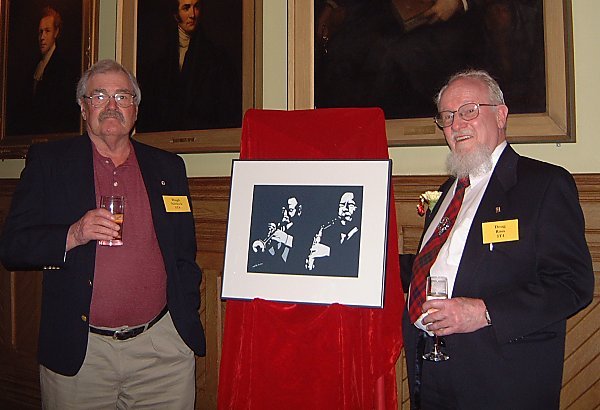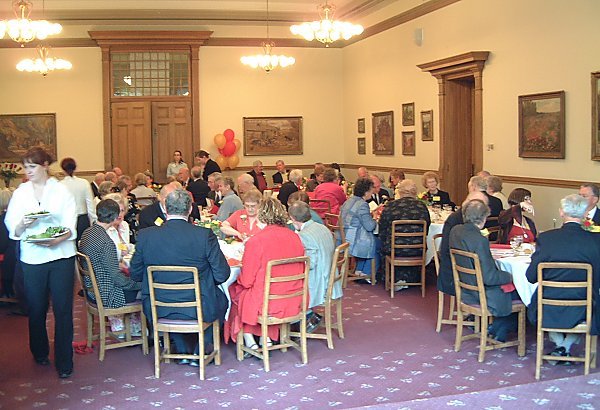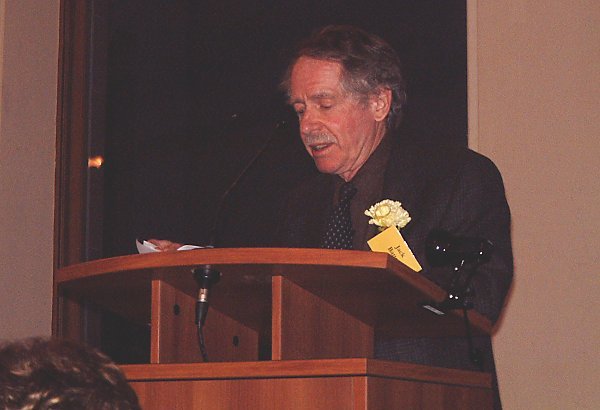 Hugh Niblock,Vic 5T4, well-known for cartoons in the Varsity, presented his painting of Miles Davis and Cannonball Adderley from his series of "All That Jazz: A Visual History" to the Class of 5T4. His Showing opened at the Huronia Museum on April 30. As a retired teacher, Hugh is an artist and partner with his wife Gale at the Galerie Gale B&B in Midland, Ontario.
The centre photograph shows many of the members of 5T4 who attended the reunion dinner which was held in Alumni Hall at Old Vic. Mollie Bennett, Vic Communications Officer, obtained additional photographs of the event.
Author and broadcaster Jack Batten, Vic 5T4, had been chosen as the recipient of the 2003 Victoria College Distinguished Alumni Award. He delivered a brief humourous anecdote after the 5T4 Reunion Dinner.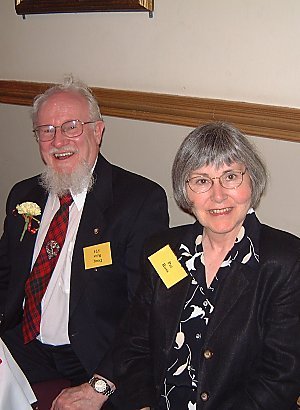 Except for technical work on the photographs for presentation at the events on this website, all credit should go to Pat Ross as the photographer. We appreciate Bob Martin who observed that Pat and I had not appeared together in any of the pictures at the dinner. [He also noted that our nametags were askew! So what's new, eh? Thanks again, Bob.]
---
CLICK on the following for more data:
Pat's Dinner Photos

Mollie Bennett's Pix

2004 Vic Strands

Reunion Programme