Click on the thumbnail photographs to obtain a larger picture and description.
On Saturday, September 25, Jenn drove us to some lookout points along Flagstaff Road. We stopped at a ranger station and information centre, where there were plenty of pictures of the animals and plants common to the western mountain ranges.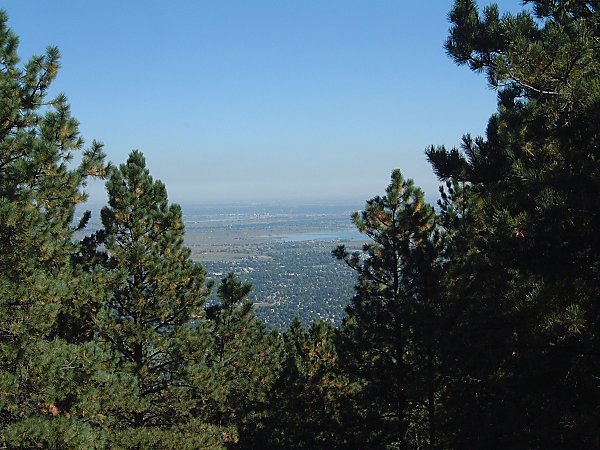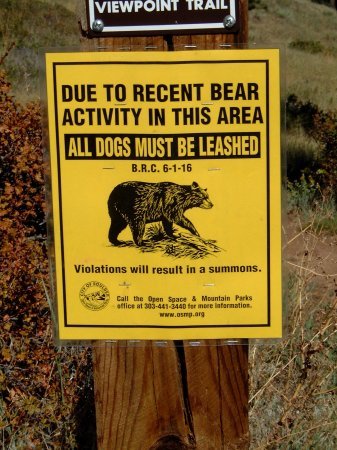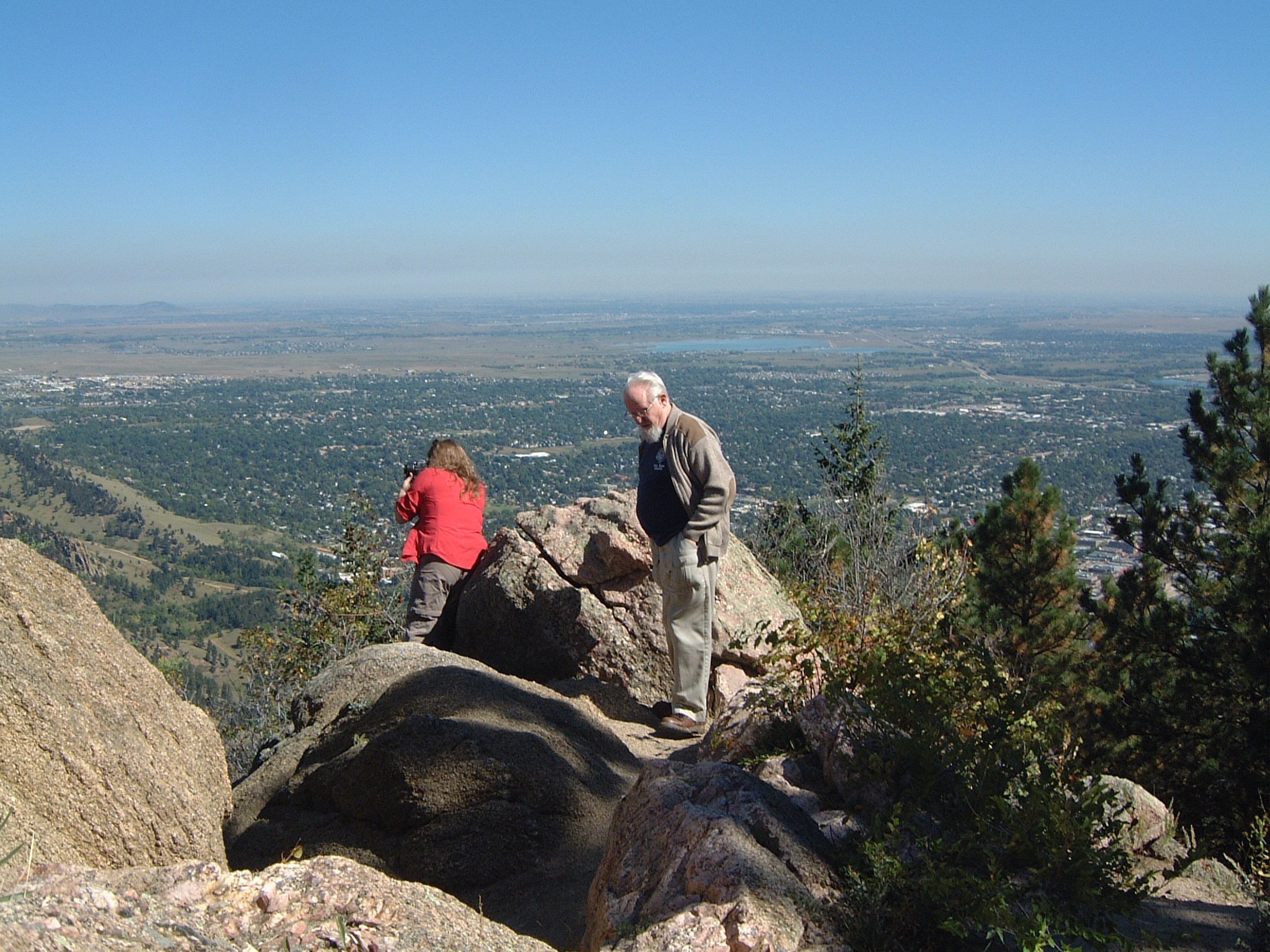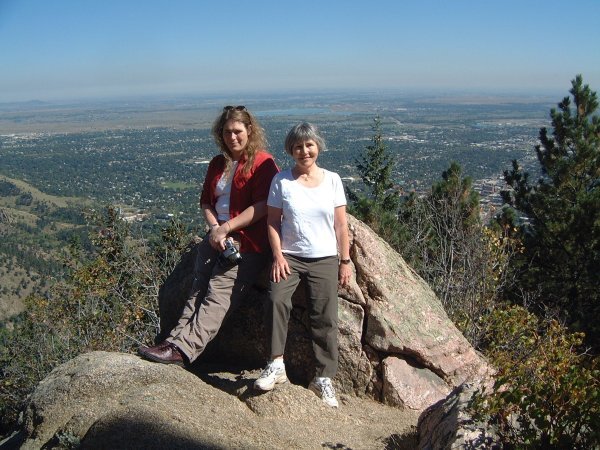 - Lookout Near Information Centre: This is the most frequented viewpoint overlooking Boulder, but we found a "better" one.
- A Sign Along the Trail: Needless to say, we had no dogs with us . . . and we saw no bears.
- The Second Lookout: Jenn tried to take a photograph of Mount Sanitas. I had no camera, but the view was splendid in spite of the precarious footing.
- Jenn and Pat at the Second Lookout [Bottom]: From the top of this boulder it was possible to see Mount Sanitas to the West. There was also a good view of Boulder below.
---
CHAUTAUQUA PARK TRAIL
This area lies at the base of The Flatirons, and one can imagine its popularity with hikers in Summer and skiers in Winter. Jenn and Pat took their early Sunday morning hike here.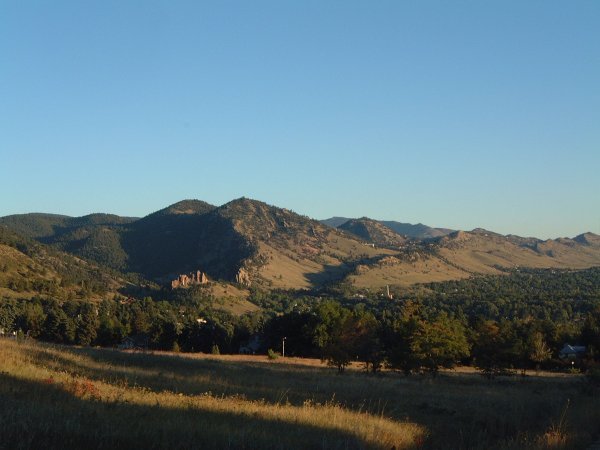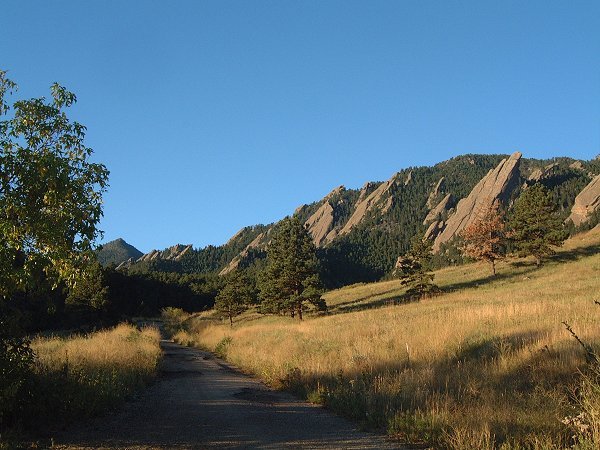 - Mount Sanitas from Chautauqua Park: Looking west from the trail, there is a good view of Mount Sanitas, which Pat and Jenn have used for hiking on previous occasions.
- Path to the Base of the Flatirons: Hikers and skiers enjoy this trail all year round.
---
MOUNT SANITAS
Pat and Jenn decided to get an early start on Monday in order to tackle the complete climb to the summit of Mount Sanitas.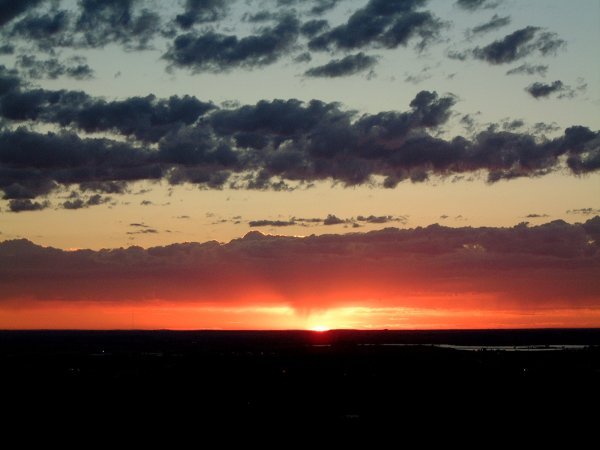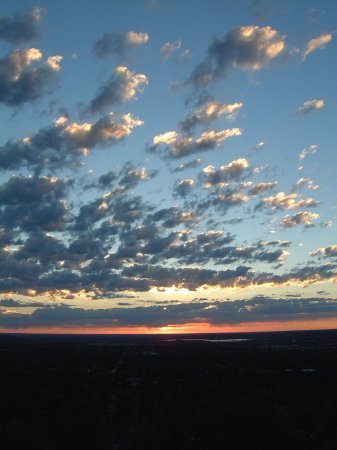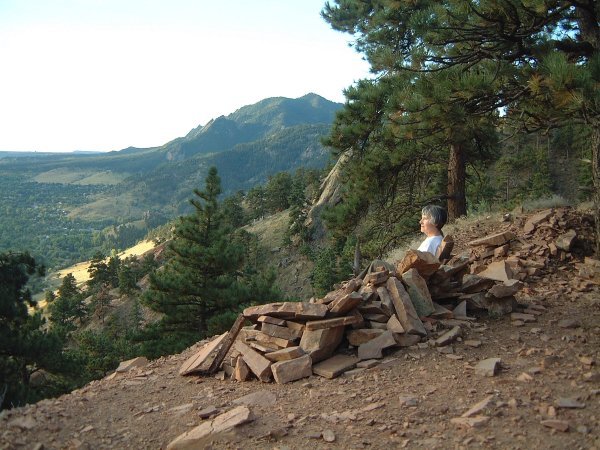 -
Sunrise Below Mount Sanitas
: Pat and Jenn had an early start for their most adventurous climb. Mount Sanitas is directly west of Jenn's home in Boulder.
-
Sunup Along the Trail
: It appears to be a great day for the climb.
-
A Familiar Resting Spot
: We may have seen this
resting spot
on a previous hike. Just CLICK to refresh your memory.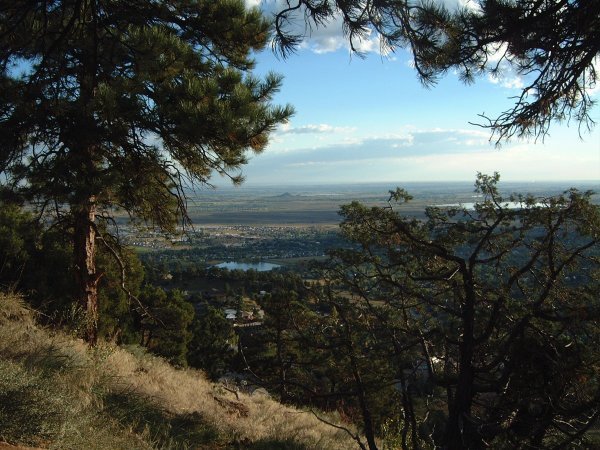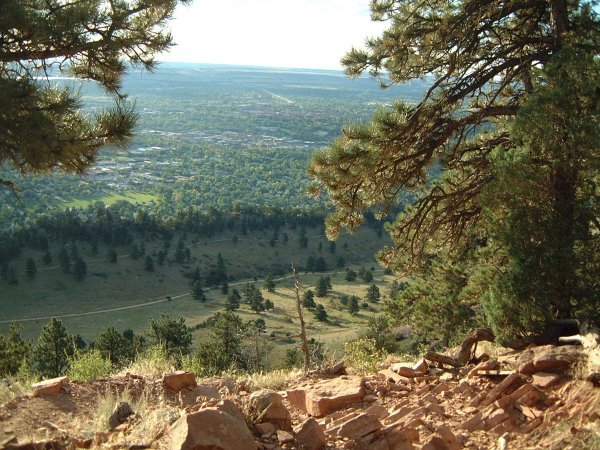 - A View to the West of Boulder: The water reservoirs don't appear to be too low this year.
- Overlooking Boulder: Pat and Jenn have walked the meadow path (below) on several occasions.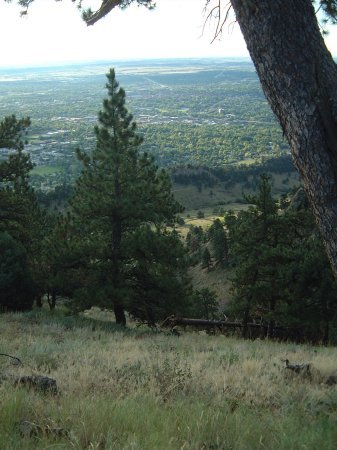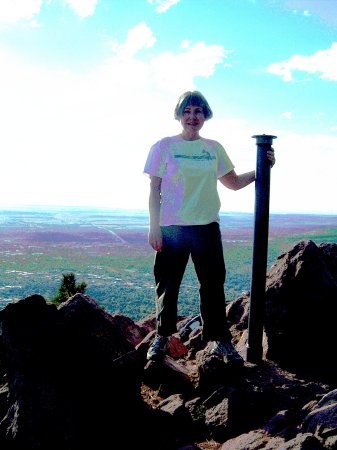 - Higher Up: Here is another view of the meadow and ridge from higher up Mount Sanitas.
- A Rocky Path: This is definitely one path to avoid.
- Pat At The Summit: This photo needed some work due to the backlighting. Pat and Jenn made it to the very top of the mountain.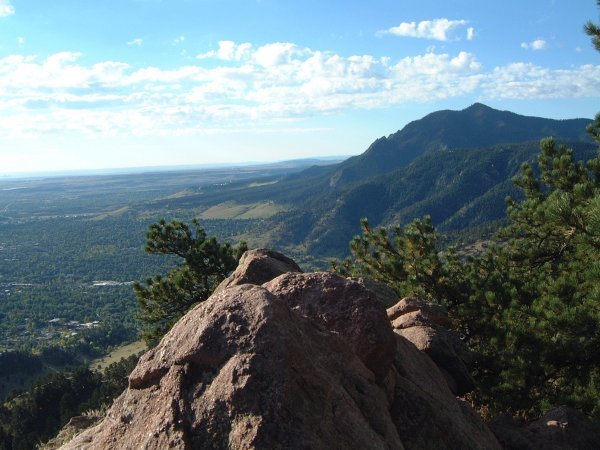 - View Down To Meadow and Boulder: It's easier coming down, but it is possible to record another picture during the descent.
---