These pictures were taken at the Longs Peak Scottish/Irish Festival on September 6, 2003. Photographs were taken with Pat's Fujifilm Digital Camera "FinePix 4700 zoom". Click on the thumbnail photo to obtain a larger version.
WEST PARK CENTER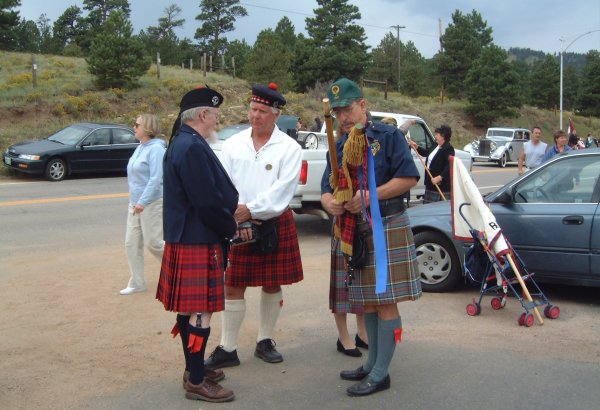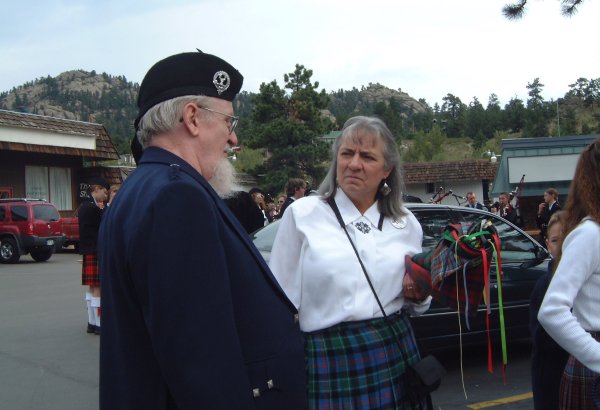 The assembly area for the parade was the West Park Center. After introducing myself to the Rocky Mountain Region Commissioner for Clan Ross - USA (Mickey Statten, standing to the right in the first photo), I chatted with other members. In the second picture, I am talking with the Colorado Commissioner for CRA-US (Janet VanEps) before the group is assembled. Janet had prepared several tartan flags for children to carry in the parade.

Before we lined up for the parade, Pat noticed a fellow wearing a Dress Ross kilt and a Toronto Police uniform. Since CRA-Canada provides a webspace for the Toronto Police Pipes and Drums Band, I wandered over. It turned out to be the Pipe Major, Ian MacDonald, whom I have telephoned once and emailed only a couple of times. We had never met, but we were supposed to meet this Fall to discuss the website. It was a surprise for both of us to meet in Colorado, but here he was assisting a parade marshal get the bands sufficiently separated so that they would not be competing with each other during the parade.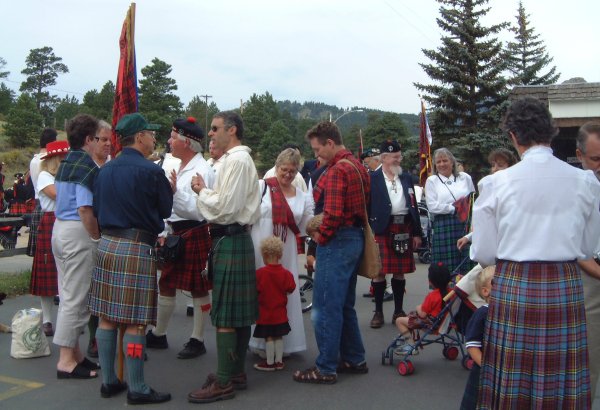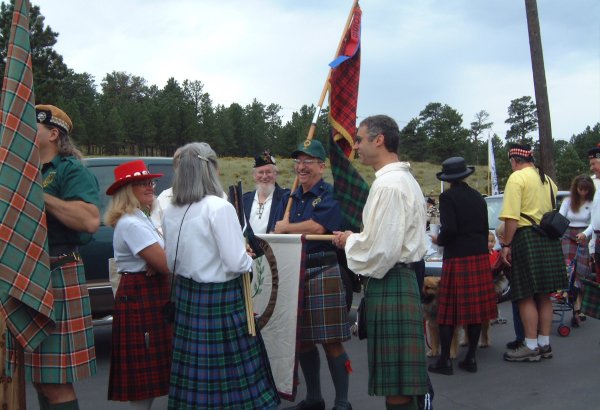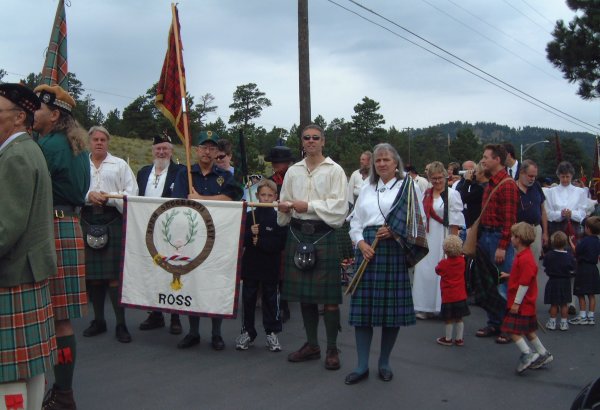 In these pictures, members of Clan Ross are gathered in the staging area at the West Park Center on Elkhorn Avenue. Members identified themselves as follows:
Archie Falconer and Barbara Ross, son Charles, grandsons Ezra and Isaac
Bob and Joyce Frese, sons Travis and Triston, Mallory Angstadt
Phil and Daniele Ross (Kansas), son Philip IV
Peter L. Ross, daughters Gretchen and Rachael
Janet VanEps, David and Janet Ross
Georgia Ross and Don Shea (from Boulder), Maureen Shea (Connecticut)
John and Alana Wolner, sons David and Quinn
... and, of course Pat and Doug Ross. (Toronto, Ontario, Canada)
This was a very informal group, and they enjoyed themselves throughout the parade. Our daughter Jenn made her way to the end of Elkhorn Avenue, and made a video tape of the entire parade (lasting about ninety minutes).
THE PARADE DOWN ELKHORN AVENUE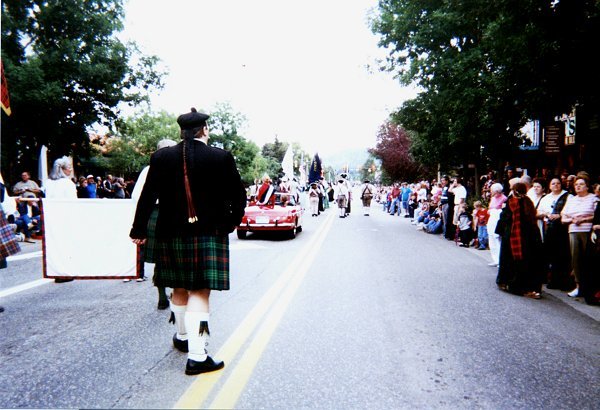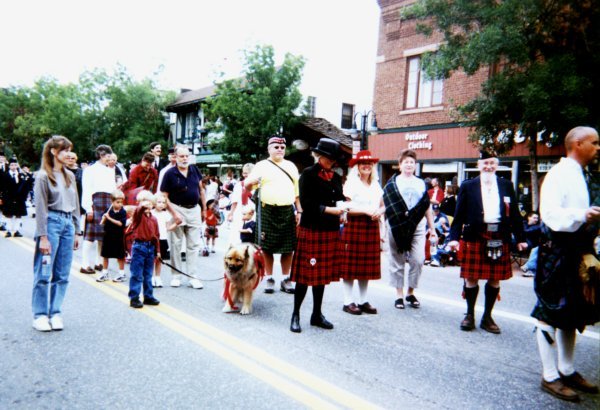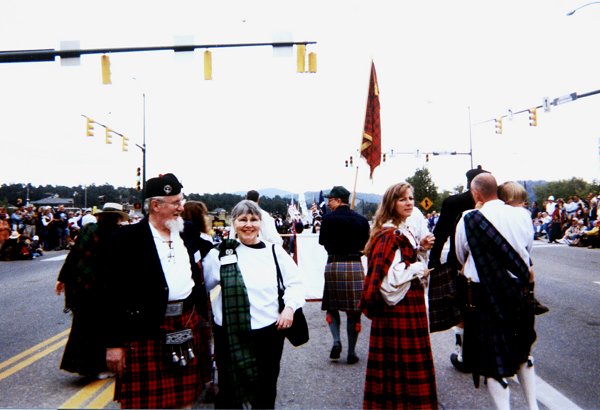 Ahead of us was what appeared to be a Revolutionary Old Guard Fifes and Drums Band. It was a good thing that no-one was marching in time, because the band to the rear was a Highland Pipes and Drums Band. Pat took the second picture during a pause in the parade. Georgia Ross, whose husband works near Jenn in Boulder, took the photo of Pat and I during a pause in the parade. [Georgia stood out in her black hat and outfit.]
LONGS PEAK SCOTTISH/IRISH HIGHLAND FESTIVAL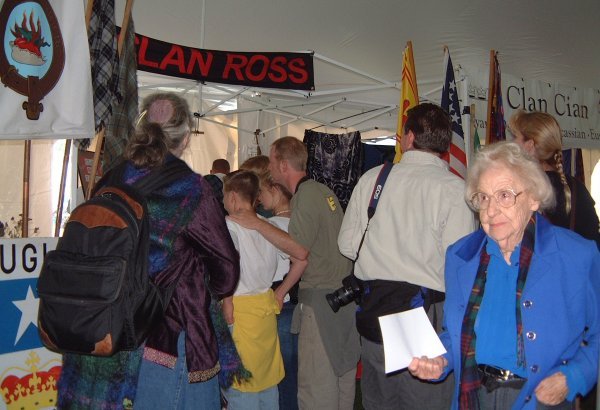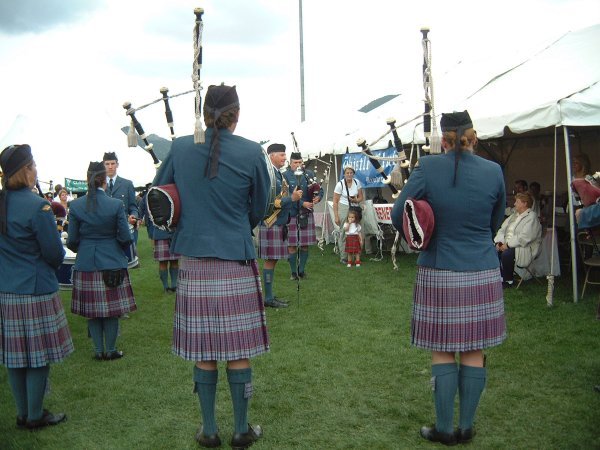 The space around the Clan Ross booth was generally crowded. One interesting feature was the "passport booklet" for youngsters attending the festival. Each clan had a rubber stamp to make an imprint of the clan badge. No badges, pins, T-shirts or books were set out to be sold at the table. Most of the attention went for the guest book and signing up new members.

The second photo shows one of the practices by the Royal Canadian Air Force Pipes and Drums Band. As a visiting group, they were due to compete at 3:00 PM on Saturday.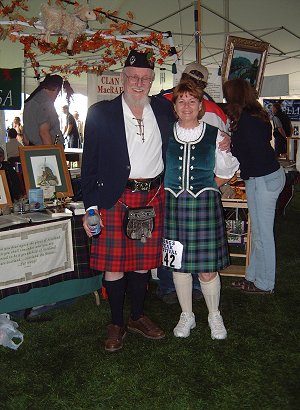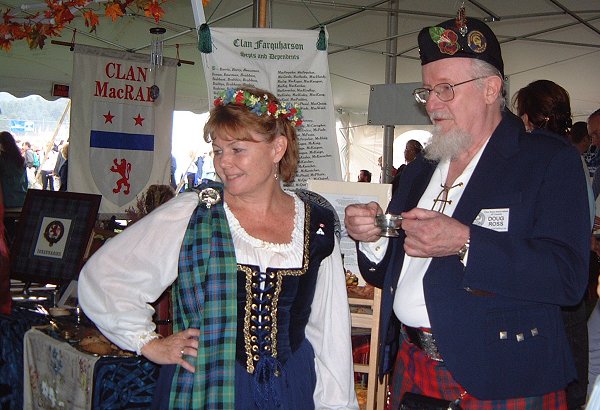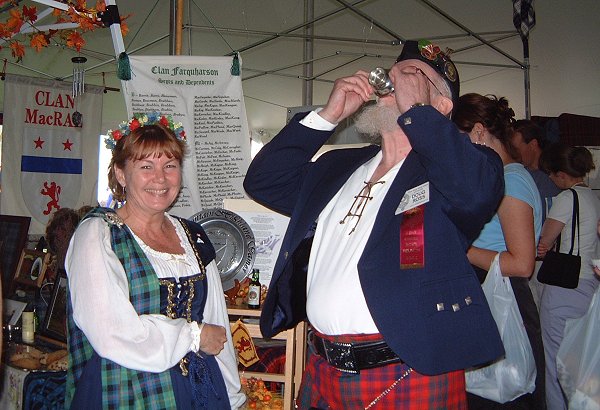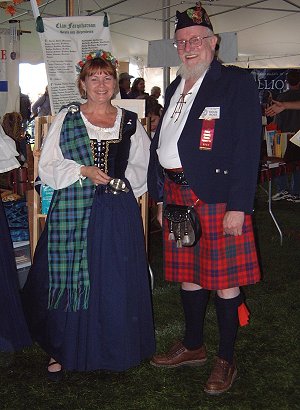 The Clan Farquharson booth was in the same tent and directly across from Clan Ross. Pat was the first to spot Jan Lyons-Barnett in her dancing outfit. Jan had been competing while we were in the parade, and she was still quite busy putting costumes away. Nevertheless, we didn't lose an opportunity to get some photographs with another delightful internet friend from Electric Scotland. Multi-talented Jan is also the contact person for Clan Farquharson in Colorado.

As you can undoubtedly see, that quaff of the "Water of Life" from the quaich certainly hit the right spot. Deoch Slainte! Here's to your good health, Jan.

There wasn't sufficient time for me to say that a Doctor William Farquharson and my Grandfather Reverend John A Ross became close friends as neighbours in Toronto after their retirement; they could play at checkers together for hours. Pat and Jan would have enjoyed exploring their mutual interest in zoology.