BOULDER, COLORADO
Click on the thumbnail photo to obtain a larger version.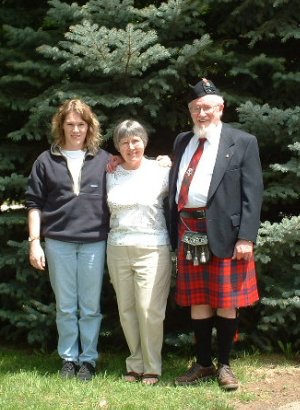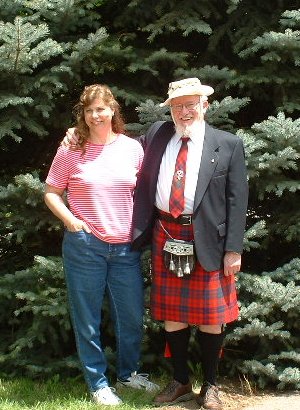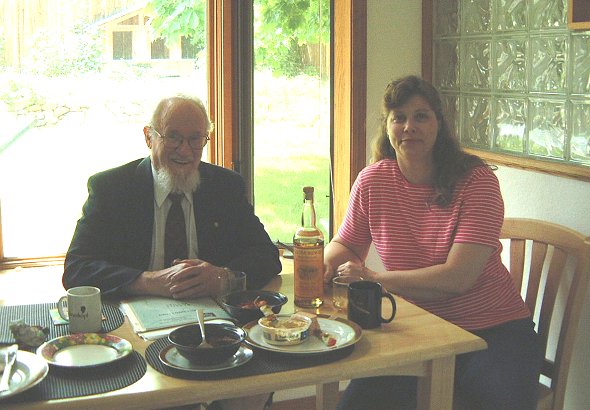 Doug's internet friend, Laurie Drummond, visited us on Tuesday, May 21, with her son Bryan and his friend Andrew. Pictures were taken in front of Jenn Ross's home. Later, we went inside for a snack and a wee chat.
ROCKY MOUNTAIN NATIONAL PARK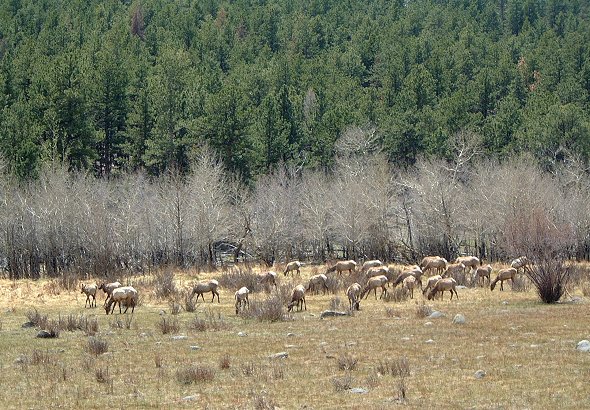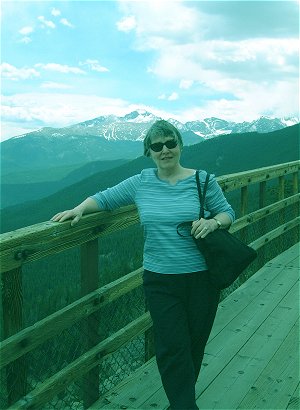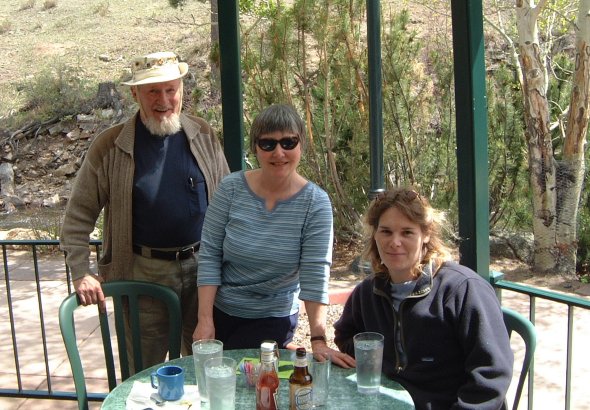 Jenn drove us through Estes Park on Sunday, May 19, and onto the Trail Ridge Road through the US Rocky Mountain National Park. This road is the highest continuous highway in the world. Normally, it would be closed due to the snow until the months of July and August.

We returned to Estes for supper at Poppy's Pizza and Grill, and the waiter took our picture.
BUFFALO BILL'S GRAVE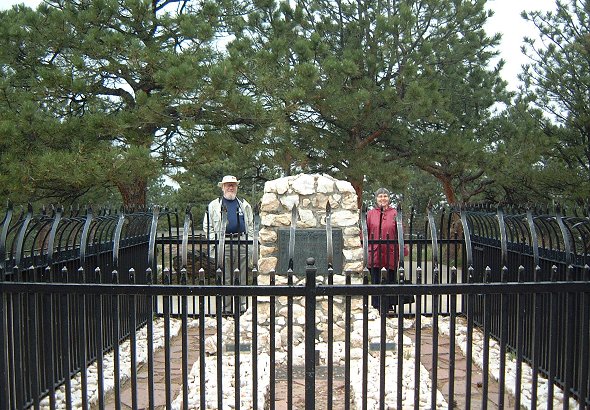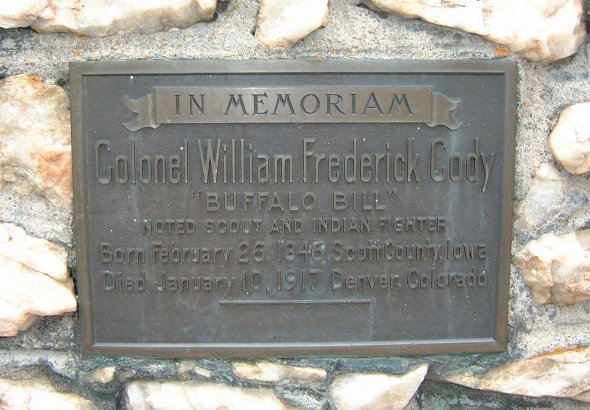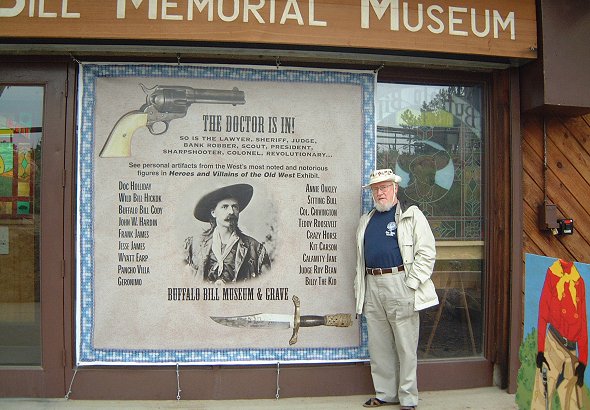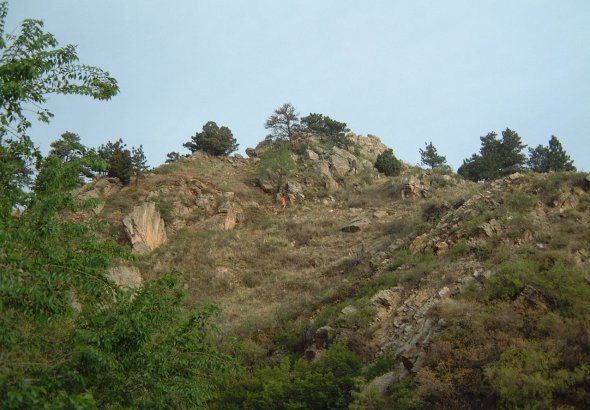 Jenn used her Global Positioning System (GPS device) on Monday, May 20, as she drove us to Lookout Mountain west of Denver. Pat and Doug stood on either side of the marker, and visited the museum.

The third daughter of Benjamin Ross (D6) and Isabelle Smith was Bessie Belle Ross. On June 8th, 1921, she married Allen J. Cody. Allen and William F. Cody (alias Buffalo Bill) were cousins. After Buffalo Bill Cody conceived of his Wild West Show in 1883, he visited Allen's father in the Mount Albert area of Ontario whenever he came to Canada. Many tales were told of Kit Carson, Ned Buntline, Annie Oakley ("Little Sure Shot"), Chief Sitting Bull and Louis Riel's general Gabriel Dumont. The latter three were evidently members of the show. The buffalo culture of the western plains was dead, and Buffalo Bill died penniless on June 3, 1917, at his sister's home in Denver, Colorado. Allen and his brother Leroy Cody attended Buffalo Bill Cody's funeral. He was buried on a hill on Lookout Mountain.
MOUNT SANITAS HIKING TRAIL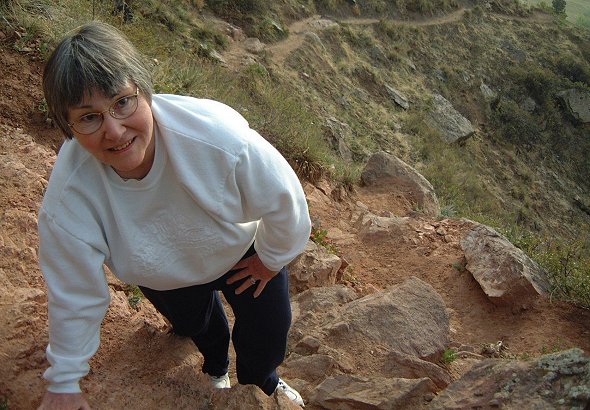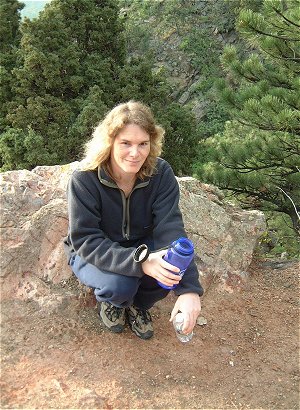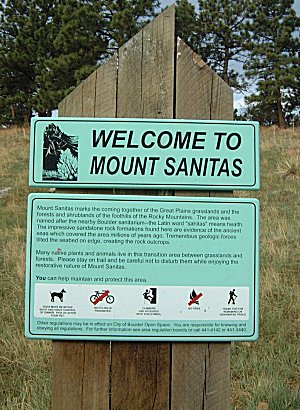 The area of Mount Sanitas marks the coming together of the great prairie grasslands and the forests and shrublands of the foothills of the Rocky Mountains. Pat and Jenn Ross did their early morning hike there almost every day. The highest altitude reached was 5971 feet above sea level according to the GPS device, which kept a record of the hike and produced a map. Pat spotted a turkey vulture, a mule deer and a squirrel. I heard elk bugling in the morning uphill to the west behind Jenn's home.