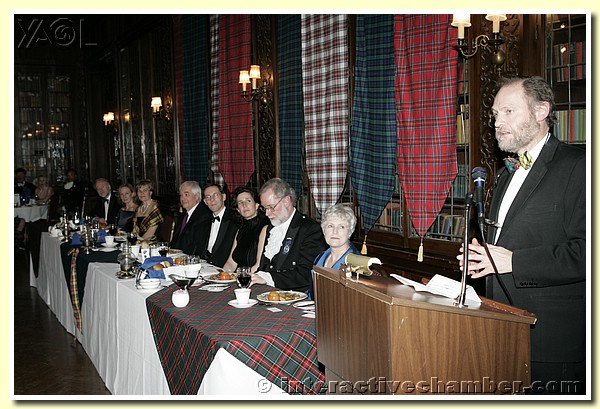 Douglas Maitland Gibson
Douglas Gibson was born in 1943 in Kilmarnock and went to Glasgow Academy before he gained an M.A. at St. Andrews. He came to Canada in 1967 and soon became an editor with Doubleday Canada. He joined Macmillan of Canada as Editorial Director in 1974, becoming Publisher in 1979. In 1986, he joined McClelland & Stewart as Editor and Publisher, and in June of 2000 he became President and Publisher.

At the beginning of his speech, Douglas Gibson quipped, "And as for tonight's event here, I must tell you that I'm very suspicious of any event chaired by the Reverend Malcolm Sinclair, surely the most irreverent reverend in captivity. In January I was giving a speech at the St. Andrew's Society, and I apologized to the table behind me, that they could only see the back of my head. 'They specifically requested that table!' shouted Malcolm."

In addition to praising his distinguished author, Jim Bartleman, Douglas Gibson praised two others towards the conclusion of his speech. "Just today, incidentally, I came across a fascinating U.K. review by the distinguished literary critic, Karl Miller, that ran in The Scottish Review of Books a few weeks ago. It begins: 'Two of Scotland's most gifted writers, of all time, are born and bred Canadians, Alice Munro and Alistair MacLeod'."

Use your BACK button to return.