17th Annual Tartan Day Celebration - 2009
Click on a thumbnail photo to obtain a larger version.
---
On April 7th Pat and I attended the Scottish Studies Foundation's 17th Tartan Day celebration and Scot of the Year Award for 2009, which was sponsored by the HBOS Canada bank and hosted by the Scottish Government as part of Scotland Week events across North America. This year's celebration was held at the St Andrew's Club and Conference Centre, 27th Floor, 150 King Street West.

Our request for an invitation was sent on February 20, 2009, with full details for myself [J. Douglas Ross, National Webmaster, Clan Ross Association of Canada Inc.] and my wife [Patricia D. Ross, Newsletter Editor, Clan Ross Association of Canada Inc.] The following invitation was received on February 24 with a reminder to ensure that details about one's guest be included for nametags due to concerns about security for the event. The information about my wife was repeated and sent on February 24. Other than an update on March 13, no further communications were received. It was reasonable to expect that nametags would be ready and our names would be on the list of guests.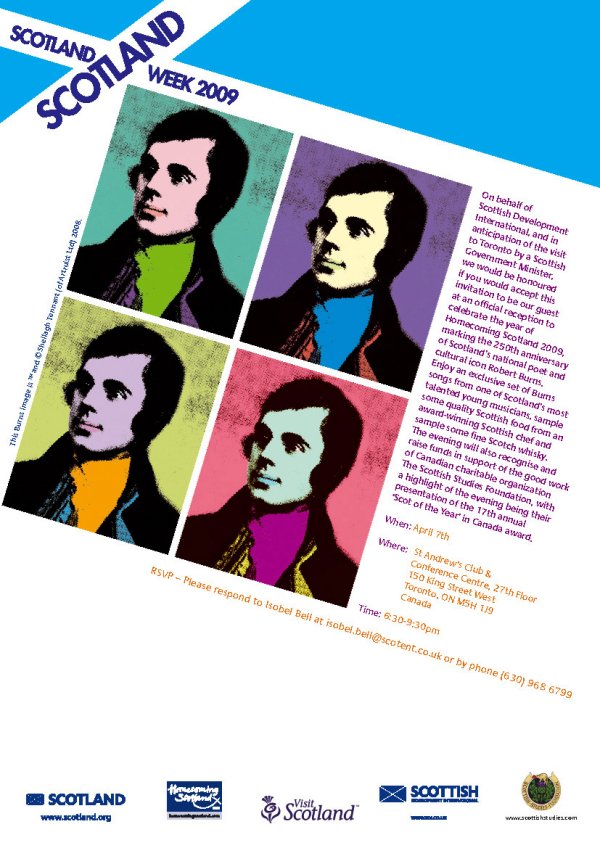 I had to print our names on blank nametags, and our names had to be written on the guest list at the Reception Table. We discovered that other members of the Scottish Studies Foundation had been treated in a similar manner. Still, I am convinced that Isobel Bell and Michael Corish have terrific qualifications as organizers. [I rarely give advice, but here goes. Take your own nametags!]

I offer my humble observation that the 2008 invitation was much more personal. The website of the Scottish Studies Foundation notified everyone that this year's recipient of the Scot-of-the-Year Award would be Flora MacDonald, and I immediately sent an email to David Hunter that I'd be truly looking forward to the presentation of the Scot-of-the-Year award to Flora MacDonald. I told him that I was introduced to her in the mid-1970's at a Kiwanis luncheon at Casa Loma a couple of years after her successful election as an MP. I said one word - - - "Flora". She looked at my tartan tie & clan badge and said, "Ross"! I'm not generally associated with PC agendas, but when Flora competed later in the leadership race I recall thinking that she would make a splendid Prime Minister. I added that I'd be wearing my kilt - - - and a white cockade in my cap. [In her speech, the Honourable Flora MacDonald mentioned that her outfit was copied from a painting of her Scottish namesake.] The following picture was taken by Flora's sister Sheila.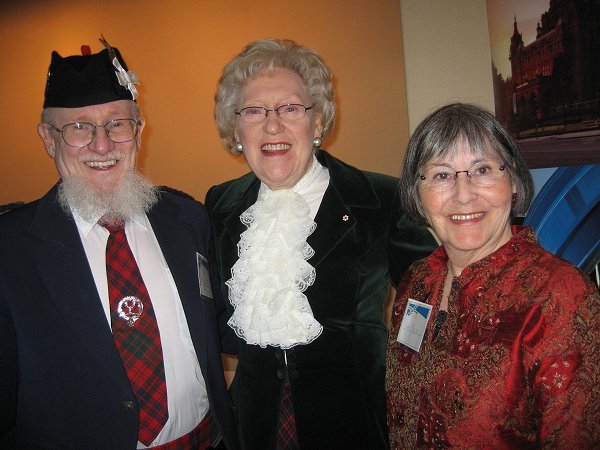 Flora's profile may be found on our website page about
Tartan Day

In an email update from Scottish Development International on March 13, we were informed about the following:
- (1)We're delighted to confirm that Michael Russell, MSP, Minister for Culture, External Affairs and Constitution will represent the Government of Scotland and make the official address.
- (2)In LIVE cooking demonstrations throughout the night, award winning Scottish Chef Tom Lewis will use great Scottish ingredients to make some fabulous dishes (http://mhor.net/restaurant/chef).
- (3)Sample some of the finest Scotch available through the generous sponsorship of Glenfiddich. Their expert team will run 'Mini Mentor' session where you can learn about and taste Glenfiddich 12, 15, and 18 Year Old malt whisky.
- (4)In a once only performance in Canada, Scottish musician Roddy Hart will perform some of the works of Burns in special interpretations he's created for the year of Homecoming.

On March 9, we received the following tidbit from our source for news about the Scottish parliament. "The Antonine Wall was the focus of much attention on Tuesday, more beset by politicians than it ever was by the savage hordes living beyond the North Western frontier of the Roman empire. We were there to highlight the wall's status as a World Heritage Site - one of Linda Fabiani's achievements during her time as Minister for Culture and Wednesday's event was fronted by new Culture Minister Mike Russell -
or would have been had he not been running late
and had Michael Matheson MSP step in to do the first bit before Mr Russell could get there. He was joined by London Minister for Culture, Creative Industries and Tourism Barbara Follett MP." [Fortunately, the busy MSP Mike Russell was on time for this Scottish Week event, having arrived from New York and being prepared to fly to Vancouver during his hectic schedule.]
RECEPTION
We were met with trays of wine and plenty of hors d'ouvres shortly after our arrival. I spotted Alastair McIntyre, Nola Crewe and Harold Nelson, David Hunter and Jeanne Eisley, Gordon Hepburn, Dr. Graeme Morton, Neil and Marie Fraser, Michael and Cyrel Danso and others with connections to the Scottish Studies Foundation. At times it was difficult to be heard over the chatter around us. Movement between the three areas was difficult.

One of the added features was a gentleman from Kingston, who was dressed as Sir John A. MacDonald. Many participants used the occasion to dress in Highland attire since this had a Scottish flavour and occurred on the day after Tartan Day.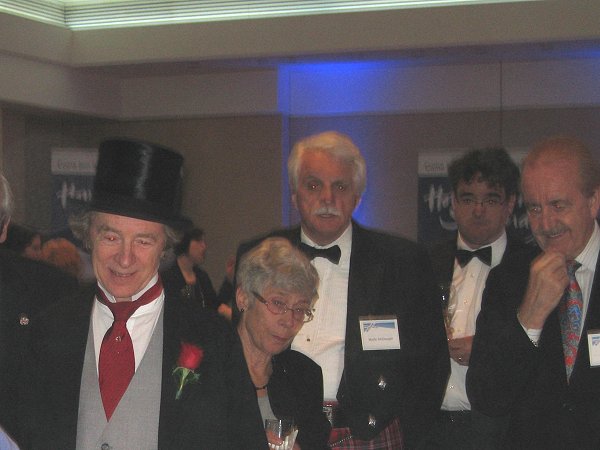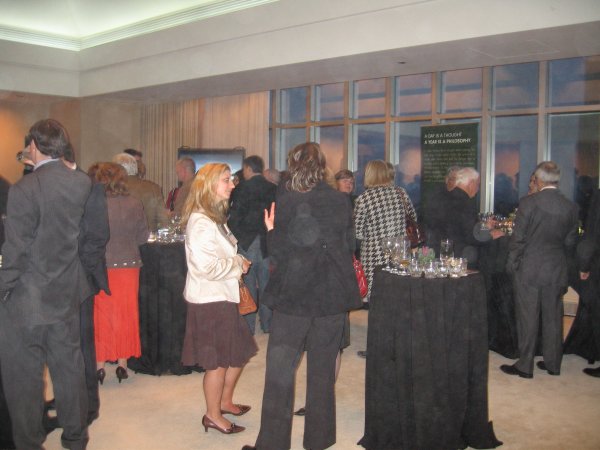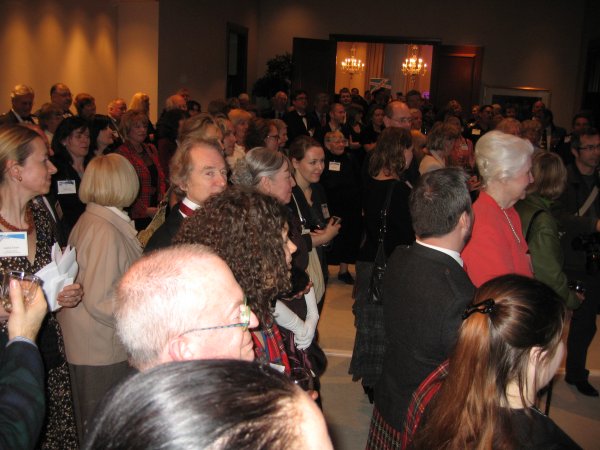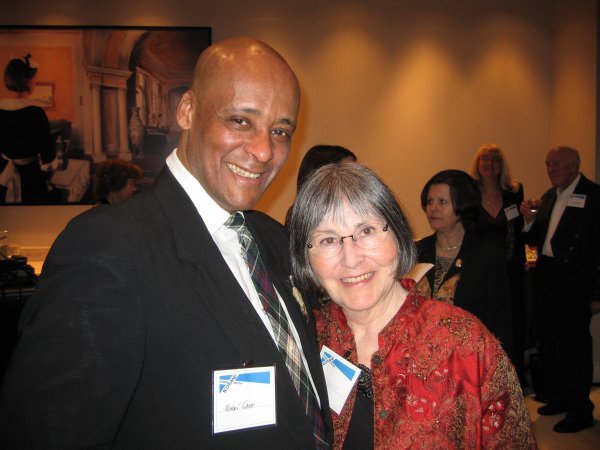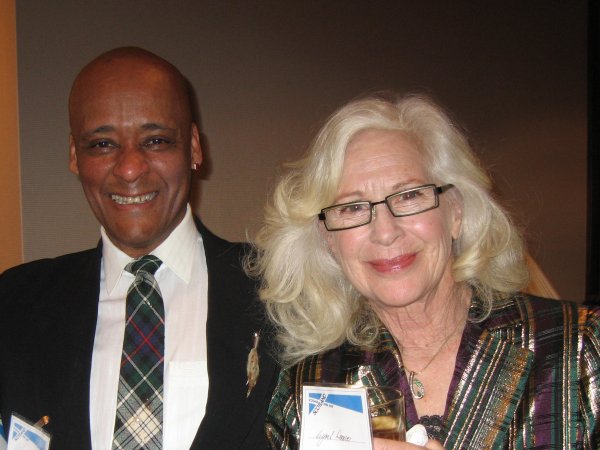 ---
ENTERTAINMENT
We were entertained during the evening by a pair of violinists in the centre stage area. Their favourite tune seemed to be "I Belong To Glasgow", and they were joined by an impromptu group in the corner who joined in with the chorus . . .


I belong to Glasgow,
Dear old Glasgow town;
But what's the matter wi' Glasgow,
For it's goin' roun' and roun'!
I'm only a common old working chap,
As anyone here can see,
But when I get a couple o' drinks on a Saturday,
Glasgow belongs to me!

The talented Roddy Hart performed some of his interpretations of Rabbie Burns with his guitar and a piano.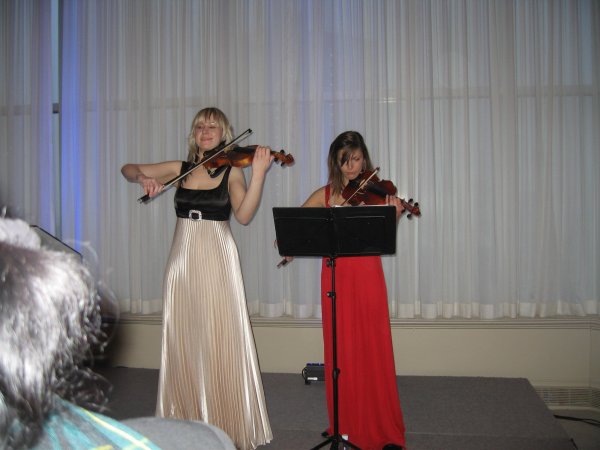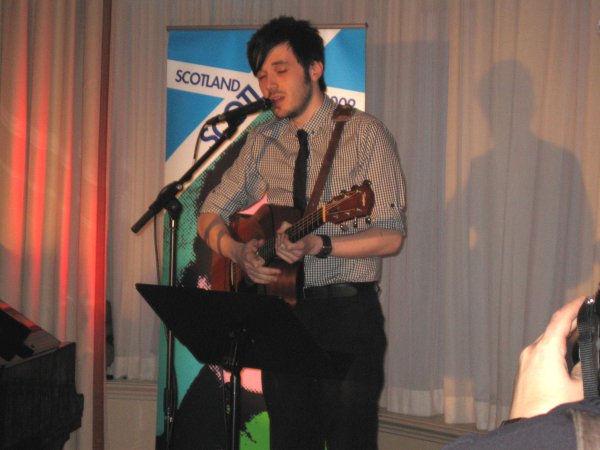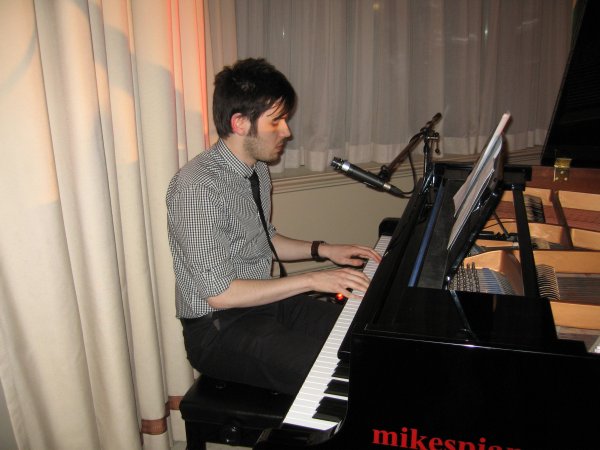 ---
SPEAKERS AND PRESENTATIONS
David Hunter, President of the Scottish Studies Foundation, served most ably during the evening as the master of ceremonies. The first speaker, Peter Lederer, chairman of Visit Scotland, spoke about Scottish Development International and the celebration of the 250th birthday of Scotland's bard, Robert Burns. The second speaker, Michael Russell, MSP (Minister of Culture, External Affairs and Constitution), continued the theme of the Gathering of the Clans and the 2009 Homecoming Scotland events. [David gave him a cheque for $1000 from the Scottish Studies Foundation for the Minister to give to Simon Fraser University during his next venue in Vancouver.]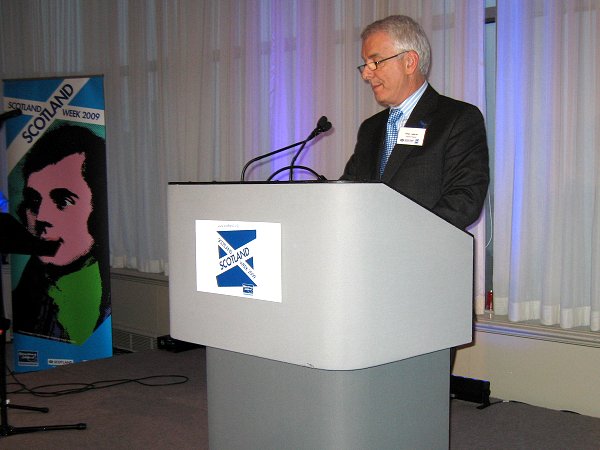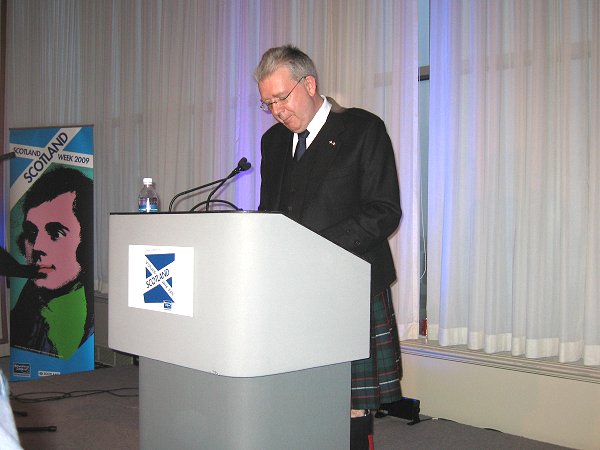 David Hunter introduced the 2009 recipient of the "Scot-of-the-Year" award, the Honourable Flora MacDonald, listing her many accomplishments. The 2008 recipient of the award, Donald Stewart, had the honours of presenting the cup. During her acceptance speach, Flora revealed that she would be returning to Afghanistan on May 1st of this year to follow up on her recent initiative towards education and improvement of the lives of women in that country. Long may this magnificent 82-year-old Lady continue her work.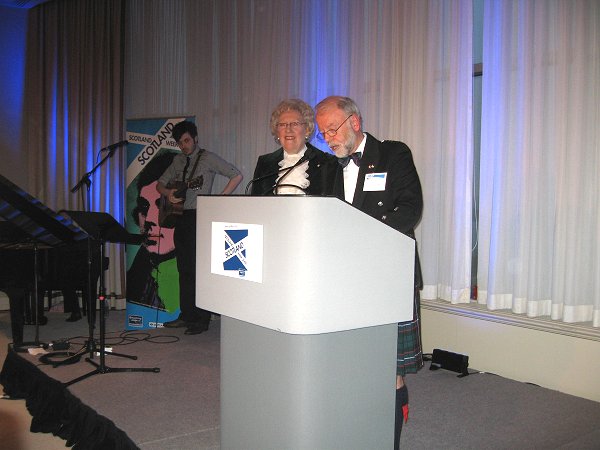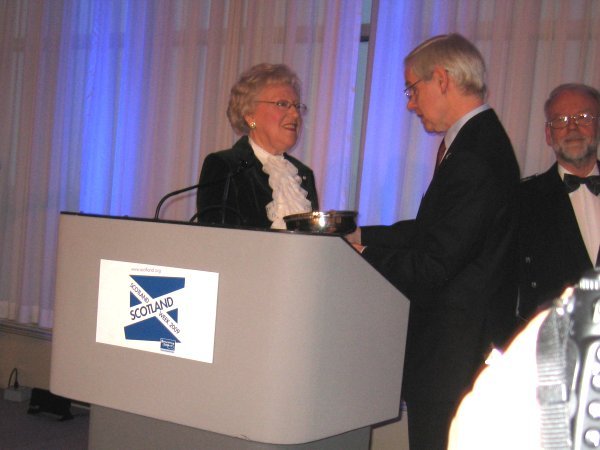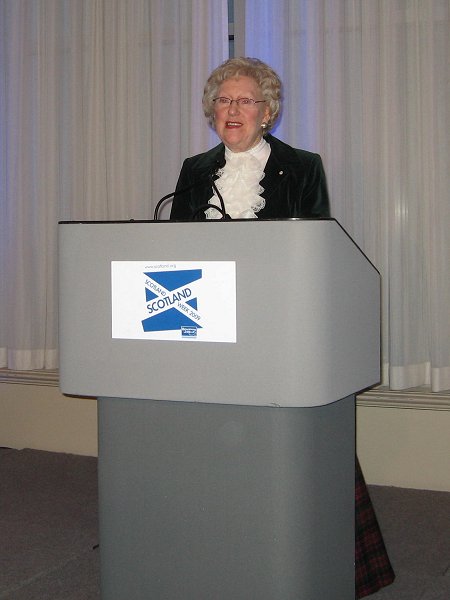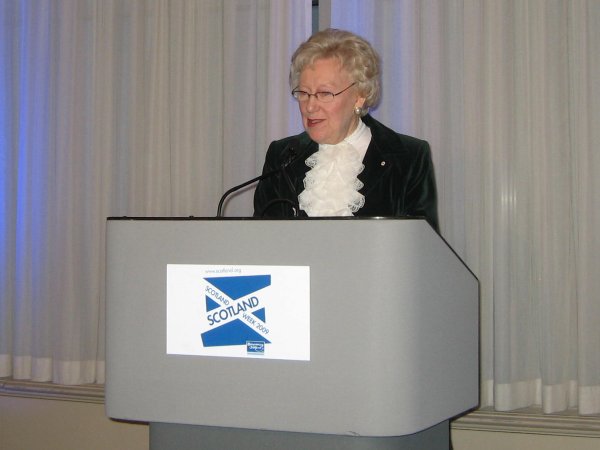 ---
CHEF TOM LEWIS
This area proved quite popular. In fact I observed that Tom ran out of supplies well before the end of the evening. As seen in these early pictures, the lengthy line-up occurred to Tom's left. Just as I stopped taking pictures and decided to join the line, the fellow at the front of the long line became glued to the floor . . . or so it seemed. Sorry, Tom. I left after standing for a full 30 minutes while people on the right were served. My wife and I will try to have a taste if we're ever close to your hotel in
the Trossachs National Park in Scotland
during a visit.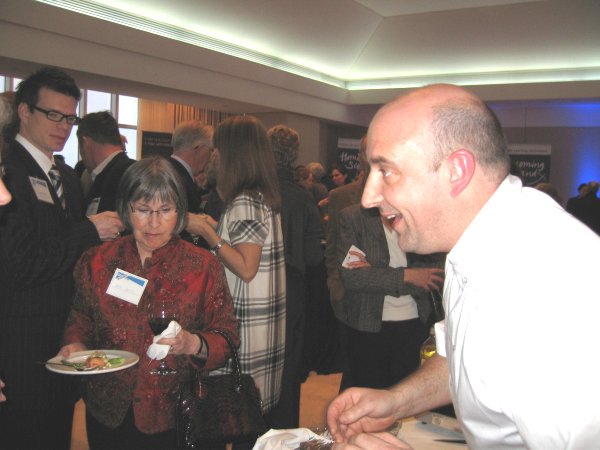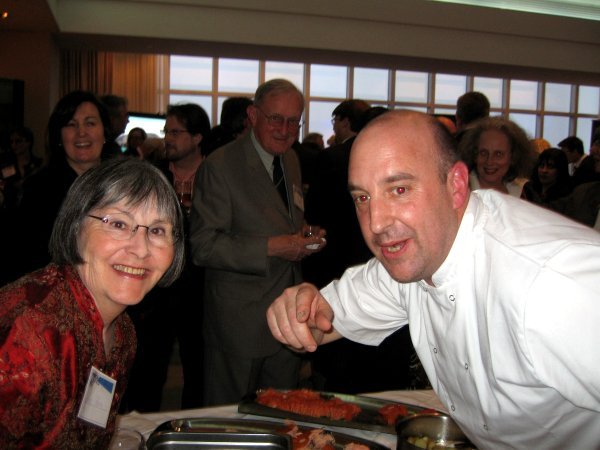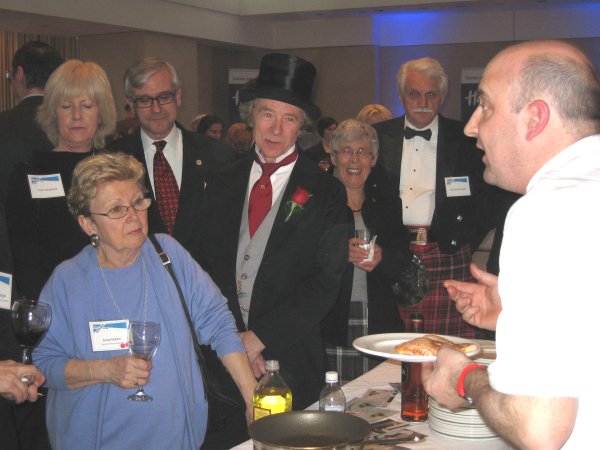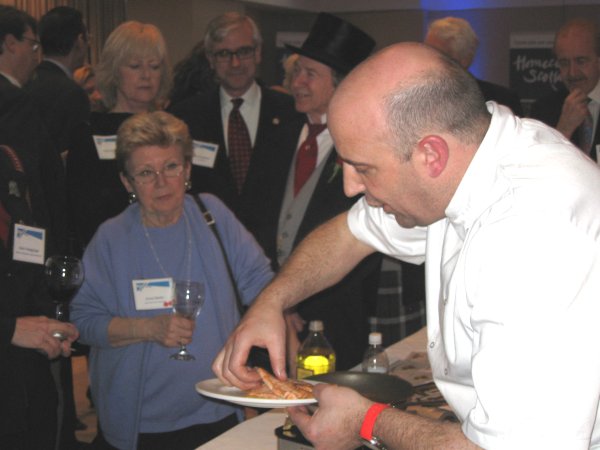 ---

For the broad picture of Tartan Week visit
http://www.scotland.org/scotland-week/?utm_source=newsletter&utm_medium=email&utm_campaign=apr_2009

For more photographs at Alastair McIntyre's website visit
http://www.electricscotland.com/ssf/ssf2009.htm
---