J. Douglas Ross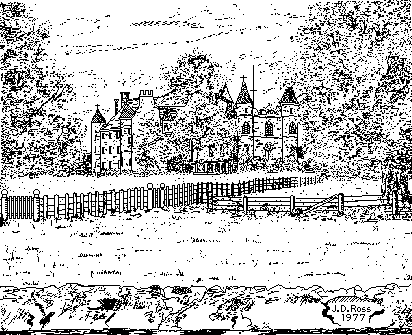 BALNAGOWAN CASTLE - EASTER ROSS
A monument at the north end of Loch Sheil in Glenfinnan is a tribute to clansmen, patriots who supported the cause of Prince Charles Edward Stuart at Culloden. It is noteworthy that the tribute does not distinguish between Jacobites, Nationalists or Scottish Freemasons as reasons for that support.

Clan Ross was firmly Church of Scotland in its religious beliefs. Patrick Hamilton, the first Scottish martyr of the Protestant Reformation, was burnt at the stake at St. Andrews in 1528. King William of Orange, King of England and Scotland (1689-1702), appointed David Ross, 13th of Balnagowan and Chief of Clan Ross, as Sheriff of Ross to form a garrison to uphold Presbyterianism (the Church of Scotland) in the north and to protect Inverness. Thus, it makes a wee bit of sense to study other reasons for support of the Jacobite cause by members of the clan.
Nationalism

The Act of Union of English and Scottish parliaments, proclaimed on May 1, 1707, formally united Scotland with England to form Great Britain. In doing so, the Scottish Parliament voted itself out of existence. Lord Ross of Hawkhead (Halkhead), one of the thirty-one commissioners, was not surprisingly involved in this act of complicity with the English. This did not sit very well with the members of Clan Ross.

On April 17, 1711, David Ross, 13th of Balnagowan and Chief of Clan Ross, died without issue and deeply in debt. Succession to Balnagowan then passed out of the hands of O'Beolan descendants to unrelated families instead of to Malcolm Ross, 5th of Pitcalnie, who was descended from Alexander Ross (9th of Balnagowan) and his second son Nicholas Ross (1st of Pitcalnie). Litigation by Alexander, 6th of Pitcalnie, to regain the title was also unsuccessful as was litigation on behalf of Munro Ross (7th of Pitcalnie). (
a
)

The aforementioned Lord Ross of Hawkhead and his brother Lieutenant-General Charles Ross began their unscrupulous campaign to secure the Balnagown estate and the chiefship of Clan Ross. In spite of the untraditional succession in the chiefship, the Rosses of Hawkhead were a noble and worthy family, unlike the Lockhart-Rosses who followed. Ordinary clansmen realized that the influence of Clan Ross in Balnagowan had definitely ended before the middle of the eighteenth century. Cadet Branches and other proprietors or chiefs, who now occupied lands within the old Earldom of Ross, declared their reluctance to being governed by foreigners (the Hawkheads from Yorkshire and Renfrewshire); this was easily translated by many Highlanders into a preference for a Scottish king over a Hanoverian King of England.

Chiefs of impoverished clans decided that they could not further hazard the fortunes of their clan and family members. Duncan Forbes of Culloden was the Lord President of the Court of Session for King George II's government in England. Coincidentally, Duncan's nephew Alexander Ross (6th of Pitcalnie), the nominal hereditary chief of Clan Ross, was also pro-royalist or Hanoverian in his public sentiments. With great difficulty, Duncan Forbes and the Pitcalnie chief raised a Ross Independent Company to garrison the castle in Inverness. Forbes also managed to persuade other chiefs to recruit a few officers from amongst their tacksmen or factors for an Independent Company to serve under the Hanoverian government. Early in 1745, Inverness Castle fell to the Jacobites, and the royalists in Easter Ross fled in disorder across the Dornoch Firth to the Black Isle in defeat.

Malcolm Ross, the eldest son of Alexander in the Pitcalnie line, was a student at Aberdeen University when the rebel ferment arose in that area. In tribal times, such high spiritedness in a chief's son earned clan respect and support when he, in turn, became chief. In these times, according to Donald MacKinnon's
The Clan Ross
, Malcolm was disinherited because of his support of Bonnie Prince Charlie in the regiment raised by the 3rd Earl of Cromartie (Cromarty) during the Rebellion of 1745. The Pitcalnie Cadet Branch continued through Alexander's second son, Nicholas, who was Malcolm's half brother. Malcolm's name was among those listed in the supplementary part of a manuscript entitled "
A List of Persons Concerned in the Rebellion - Transmitted to the Commissioners of Excise by the Several Supervisors in Scotland in Obedience to a General Letter of the 7th of May 1746 - and a Supplementary List with Evidences to Prove the Same
".

Several other Rosses were listed, including a few with aliases, but one in particular stands out . . . namely a John Ross, mason at Chapletown of Redcastle, who deserves separate treatment under the next section.
Order of Freemasons

George MacKenzie, 3rd Earl of Cromartie [Grand Master of Scotland 1737-38](
b
), was one of several lairds tried in London after the Battle of Culloden. The Earl of Cromartie and his 20 year old son, John MacKenzie (Lord MacLeod), decided to call out the clans and they succeeded in raising about 500 men. Cromartie's Regiment, as the force was called, joined the Prince at Stirling in January 1746 and fought at the Battle of Falkirk.

John Ross was a mason in Chapelton when he was conscripted into Cromartie's Regiment with a strong contingent led by the McFarquhars of Redcastle. The birthdate of John's daughter Christina (
c
) indicates that this occurred after the Battle of Falkirk. According to the document,
A List of Persons concerned in The Rebellion
, we are informed that "John Ross, Mason, living in Chapelton of Redcastle in the Parish of Killearnan, County of Ross, went with the Rebels to Sutherland". [Descendants of the '45 Rebels may wear a white cockade in their cap when in Scottish attire.]

Thus, John Ross was with Cromartie's regiment when it was sent north to capture Dunrobin Castle, a mile north of Golspie in Sutherland on the east coast of northern Scotland. This was the last siege battle fought in Britain. On April 15th, 1746, the day before the battle of Culloden, about 400 of the force were defeated between Skelbo and Dunrobin Castles. The Earl of Cromartie and his 20 year old son Lord MacLeod (John MacKenzie) were among 218 prisoners who were captured by government militia while rushing south to rejoin the main Jacobite army. A few drowned trying to swim across Dornoch Firth to Easter Ross, but others escaped across the mountains and slowly made their way home. One-third of the prisoners died in brutal captivity, 152 survived to be transported to exile in Barbados, Jamaica, and the American colonies. A lucky ten were pardoned including Lord MacLeod, who was pardoned on condition that within six months of his 21st birthday he would convey to the Crown all his rights in the Earldom. He did so, and departed for a distinguished military career in Europe. The captured Jacobite Lairds, including Cromartie, were imprisoned in the Tower of London, and sentenced by trial in the House of Lords to beheading. His sentence was commuted to a lifetime of house arrest in England after his pregnant wife pleaded for mercy with the King and Duke of Cumberland. Cromartie spent the next two decades locked away in poverty stripped of lands and title, until his death 29 September 1766 in Poland Street, London.

In Chapter 5 of
Culloden
, John Prebble gives examples of escapees and suggests that it was possible for a "rebel" to hide out for two years and feel free to resume his former lifestyle thereafter. In the register of Killearnan Church, I found a record of baptism on September 18, 1749, as follows: "Margaret - daughter to Colin McFarquhar in Burntown Servant & to Mary Ross his spouse in presence of Colin McKenzie Tacksman in Chapletown (sic) & John Ross, mason there". Baptisms at this church were generally witnessed by family members or the congregation. John Ross witnessed other baptisms before moving to Calrichie, a suburb of Invergordon in the old parish of Kilmuir Easter in Easter Ross. (
d
)

In their pages entitled
Historic Places: Culloden
, the Clan MacRae Society of North America comments on the aftermath of the battle, as follows: "The English never claimed battle honors for the Battle of Culloden, perhaps in shame at the butchery by Cumberland, the King's son, whose policy was give no quarter. Fallen soldiers were murdered where they lay wounded on the field. Of the English who attended the public executions in Carlisle and London, it is said that many turned away." The English used the term "rebels" in listing the Scottish Patriots. Many agree that, in spite of a grievous defeat, those who fought for Scotland deserve the title Patriot on an equal footing as the warriors led by William Wallace or Robert the Bruce.

I wear the White Cockade. (
e
)
---
Footnotes
a
. On April 17, 1711, David Ross, thirteenth of Balnagowan and Chief of Clan Ross, died without issue and deeply in debt , most of which was inherited from his grandfather and father (supporting the King against uprisings and paying fines). Some of the debt was due to renovations to the castle, mortgaging it to cover debts, repairs to churches, generous assistance to his clansmen, and acting as sheriff of Ross (appointed by King William of Orange to form a garrison to uphold Presbyterianism in the north and to protect Inverness).
b
. The Grand Masters included
George MacKenzie
, 3rd Earl of Cromartie, who was reprieved and ultimately pardoned. [Grand Master, Grand Lodge of Scotland : 1737-38], 4th Earl of Kilmarnock,
William Boyd
, husband of Lady Anne Livingston of Callendar, executed 18 Aug 1746. [Grand Master, Grand Lodge of Scotland : 1743] and
Charles Ratcliffe
, de jure 4th Earl of Derwentwater, husband of Lady Charlotte Livingston, the Countess of Newburgh, executed 8 Dec 1746, (Younger brother of the Earl of Derwentwater, executed for his part in the 1715 rising.) [Grand Master, Grand Lodge of France: 1736-38].

Additionally, two Lords were executed:
Arthur Elphinstone
, Lord Balmerino, executed 18 Aug 1746, and Lord Lovat,
Simon Fraser
, executed 19 Apr 1747. (The last man to be publicly executed on Tower Hill.)

After the Tower Hill execution of Kilmarnock, Lovat and Balmerino, a pub called 'THREE LORDS' was built at 27 Church Street, Minories, London E. The Inn sign showed them with the executioner's axe and the block. All the licensees from 1811 to 1894 are on record.
c
. In the Baptismal Records for the Parish of Killearnan on the Black Isle during the ministry of Reverend Donald Fraser, the entry for February 2, 1745, reads as follows: "Donald Fraser baptised Chirstin (sic) - Daughter to John Ross mason in Chapletown (sic) and spouse Margret (sic) Ross in presence of Colin McKenzie & Kenneth McLennan both in Chapletown (sic)." Colin was a tacksman on the McKenzie lands. Margaret's maiden name was McCulloch.
d
. In the Records for the Parish of Kilmuir Easter at Calrichie, the baptismal record on May 17, 1778, for a child, John, to parents John Ross and Margaret McCulloch, witnessed by David Ross and a possible sister "Elspet" or Elizabeth.

In the same register for 1783, the following record is located: "John son to David Ross and Isabel Dingwall in Calruichy (sic) was born 24th Nov. & baptized 28th". No witnesses were listed. Calrichie is such a miniscule suburb to Invergordon on the map that David's parents must have been John Ross and Margaret McCulloch.
e
. In
Our Ross Family Story
by J. Douglas Ross (1978), Chapter 2 reveals that David Ross was married to Isobel Dingwal (sic) and living in Parkton on the Black Isle when their son, Alexander Ross, was baptized on June 10, 1781, by Reverend David Denoon in Killearnan Church before the congregation. As noted above, David and Isabel moved back to Calrichie across the Cromarty Firth, where their second son John was born. They also continued a family tradition by which the eldest son or eldest surviving son would inherit a silver quaich made by Robert Innes, silversmith in Inverness in 1720.

Alexander Ross married Margaret Noble, raised a large family and immigrated to Canada in 1860, the final one in a series of six emigrations in this family. Of the five surviving families descended from Alexander and Margaret, three have children named John Ross, each of whom inserted a letter to indicate the name of their own father and to distinguish one from the other. These are - - -

John A. Ross (b. February 24, 1854) in the Alexander Ross branch

John D. Ross (b. October 5, 1858) in the Donald Ross branch

John R. Ross (b. April 10, 1867) in the Roderick Ross branch
---
Click here for the story of
The Silver Quaich
.
© J. Douglas Ross