Question 3: TARTAN DAY What is the origin of Tartan Day?


Most people know that April 6th was chosen for Tartan Day because that day in 1320 was the signing of the Declaration of Arbroath by the Scottish nobility (including William, the Earl of Ross), declaring Scottish independence from England. It is said to be the inspiration for many future documents declaring national liberty and protecting the rights and freedoms of citizens.

Here are some facts about Tartan Day courtesy of our secretary Ian Mackay Ross and our webmaster J. Douglas Ross.

There are more people of Scots descent throughout the world than you'll find in Scotland itself. Tartan Day was established for people of Scottish heritage in the "New World" to show pride in their background and respect for their pioneer ancestors who were instrumental in developing the countries in which they now live. The Scottish value of hard work and education resulted in their prominence in the fields of business, education, government, the military and the professions.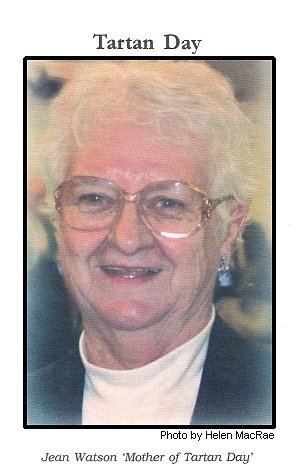 Tartan Day originated in Nova Scotia with a proposal by Mrs. Jean Watson on 09 March 1986 which was supported by the Federation of Scottish Clans. She contacted the Premier and each member of the Cabinet plus other members of the Legislative Assembly and, on Monday, April 6th, 1987, John William Gillis, MLA for Antigonish stood up in the house and made a private member's motion encouraging the wearing of "tartan on April 6th of this year and in future years." She continued tirelessly to write letters to federal and provincial politicians and Scottish groups across Canada. Since 1987, Tartan Day has been embraced by peoples of Scottish descent worldwide. Countries that have officially legislated a day of recognition for the contribution of citizens with Scottish heritage include Canada, Scotland, Australia, France, and the United States.

In response to action initiated by the Clans and Scottish Societies of Canada, Ontario MPP Bill Murdoch put forward a Private Member's Bill and, on December 19th 1991, the Ontario Legislature unanimously passed a resolution proclaiming April 6th as Tartan Day. When British Columbia passed a similar resolution on March 25, 1992, the Honourable F. Garden, MP of the Federal Legislature from Vancouver, pondered the possibility of a Federal Tartan Day Holiday, and praised the BC proclamation of Tartan Day that April, as follows: The declaration of Scottish independence was signed in my home town in 1320, and it was a declaration of freedom. In the words of those Scottish nobles, when they wrote to the powers of the day to get their independence, it said: "It is in truth not for glory, nor riches, nor honours that we are fighting, but for freedom, for that alone which no honest man or woman gives up but with life itself." That's what Scots people brought to Canada -- that freedom. Manitoba was a typical Canadian Province to recognize this day after Eldon Ross of Winnipeg prevailed upon Mr. Gerry McAlpine, a Progressive Conservative MPP and a member of the local St. Andrew's Society, to sponsor a private member's bill. Royal Assent for the Manitoba Tartan Day Bill 206 wasn't received until July 11, 1994, although April 6th had been proclaimed Tartan Day on a year by year basis for several years prior to this; the specific passage after the preamble reads: Manitoba Tartan Day ... 6.1 - In recognition of the role that Scottish Manitobans have played and continue to play in Manitoba's cultural heritage, April 6 in each year is declared to be "Manitoba Tartan Day".

Such resolutions had been passed by most other Canadian provinces including Newfoundland on April 6, 1995, and Tartan Day was now formally celebrated on April 6. Many clan societies had already been following Nova Scotia's lead during the intervening years.

W. Neil Fraser, as Past Chairman of the Clans and Scottish Societies of Canada, represented CASSOC at a conference convened by the Caledonian Foundation, USA Incorporated, in Sarasota FL, in March of 1996. He reported on the efforts of CASSOC to establish Tartan Day as a national event to celebrate our Scottish heritage in Canada since 1987, and he explained why April 6th was more appropriate than Canada Day (July 1st) or Independance Day (July 4th). Participants showed great interest and the Coalition of US Scottish Organizations subsequently adopted the concept in 1997. The government of the USA followed suit on March 20, 1998, as Tartan Day was proclaimed nationally when Senate Resolution 155 (S.Res. 155), proposed by US Senate Republican majority leader Trent Lott, was passed unanimously.

For several years, Québec resisted as it already had a special day to honour all cultural communities in the province. But, thanks to the efforts of many people, on December 18th, 2003, the Québec National Assembly passed Act 190 recognizing the Scottish immigrants who first settled in Québec over 400 years ago, making the Scots one of the founding peoples of Québec. The Act further recognized contributions which the Scottish community of Québec had made to the economic, social and cultural development of the province. The Act proclaimed Tartan Day to be celebrated on April 6th of each and every year. Other than the French who constitute the majority of citizens in the province, no other nationality or group of ethic origin has ever received such an honour.

Here are the Provinces of Canada, in order, on which Tartan Day was "officially" proclaimed:

Nova Scotia: April 6, 1987
Ontario: December 19, 1991
British Columbia: March 25, 1992
Prince Edward Island: April 2, 1992
Saskatchewan: April 6, 1992
Manitoba: April 6, 1992 (Royal Assent received on July 11, 1994)
Alberta: April 6, 1992
New Brunswick: April 6, 1993
Newfoundland and Labrador: April 6, 1995
Quebec: December 18, 2003

---

James Moore, Minister of Canadian Heritage and Official Languages, announced on October 21, 2010, that the Government of Canada now officially recognizes April 6 as Tartan Day.

Senator John Wallace (Saint John, NB) introduced Bill S-222 in the Senate on June 22 of 2010 and spoke to it during September when it was passed in both houses.

---

In Canada, the Scottish Studies Society, the fundraising arm of the Scottish Studies Foundation (established in 1987), sponsors an Annual Tartan Day Celebration Dinner during April. Since the inception of this event, the following prominent Canadians of Scottish origin have been named Scot of the Year:

1993 - Major-General Lewis MacKenzie, former Commanding Officer of the U.N. Forces in Sarajevo, Yugoslavia

1994 - Madame Justice, The Hon. Bertha Wilson, retired from the Supreme Court of Canada

1995 - Lloyd Robertson, well known CTV News Anchor

1996 - The Hon. Donald S, Macdonald, former Federal Cabinet Minister and Canadian High Commissioner to Great Britain and Northern Ireland

1997 - Col. The Hon. Henry N. R. Jackman, former Lieutenant-Governor of Ontario

1998 - John Cleghorn, Chairman and CEO of The Royal Bank of Canada

1999 - Michael MacMillan, Chairman and CEO of Alliance Atlantis Films, the largest film and TV production company in Canada

2000 - Lynton (Red) Wilson, Chairman of Bell Canada Enterprises (BCE)

2001 - Katherine Macmillan, President and CEO of Goldfarb Consultants, previously holding executive positions and obtaining extensive corporate experience with Warner Lambert health care, the Campbell Soup Company and the Bank of Montreal.

2002 - Alistair MacLeod B.A., B.Ed. (St. Francis Xavier Univ.), M.A. (Univ. of New Brunswick), Ph.D. (Univ. of Notre Dame), professor and award-winning author (e.g. - Island: The Collected Stories, 2000; No Great Mischief, 1999)

2003 - (dual awards) Alastair Gillespie, former Liberal Cabinet Minister & long-time Governor on the Scottish Studies Foundation. T.Iain Ronald, prominent executive in the financial and retail industries.

2004 - John McDermott emigrated to Canada with his parents in 1965, and produced a CD of Scottish and Irish songs for their 50th Anniversary. Subsequently, his rise to international fame as a Celtic Singer/Songwriter has been phenomenal.

2005 - Douglas M. Gibson, internationally acclaimed Canadian editor / publisher, president of McClelland & Stewart, Incorporated. He was raised in Dunlop, Scotland.

2006 - Hugh Boyle, now of Ottawa, founded Zoom Airlines in May 2002 with a team of travel and aviation experts. This Scottish-born entrepreneur and chairman hired Kristopher Dolinki, a former executive with his travel company in Scotland, to become Zoom's chief executive officer. Zoom's airfares include full meals with entertainment and they are one-way, enabling customers to fly into one destination and fly out of another at no additional cost, with no Saturday night stopovers or minimum/ maximum stay. Early flight bookings receive lower fares. [Boyle's Direct Holidays travel business, featuring low fares and direct-to-consumer sales, was a brand leader in the UK, capturing ten per cent of the British holiday market, before Boyle sold it to Airtours (Sunquest's parent company).]

2007 - Jean Watson of Pictou, Nova Scotia, as the "Mother of Tartan Day", was introduced by past Scot-of-the-Year Douglas M. Gibson. She received the award from last year's winner of the award, Hugh Boyle. Thanks to Jean's untiring efforts, Tartan Day is officially celebrated by persons of Scottish descent around the world.

2008 - Donald A. Stewart, born in 1946, holds a degree in Natural Philosophy from the University of Glasgow, graduating in 1968 with first class honours. Mr. Stewart joined the Sun Life Assurance Company of Canada in London, England in 1969. He emigrated to Montreal in 1972, after qualifying as a Fellow of the Institute of Actuaries. In 1974, Mr. Stewart left the Company to pursue a career in benefits consulting in Toronto. He returned in 1980 to lead the Canadian Group Retirement Services Division. From 1987 to 1992, Mr. Stewart held overall responsibility for Information Technology. He was appointed head of Sun Life Trust Company in September 1992. In 1996 he was appointed President & Chief Operating Officer, and in 1998, Chief Executive Officer. In March 2000, Mr. Stewart led the successful demutualization of Sun Life Assurance Company of Canada. He has since grown the parent company, Sun Life Financial Inc., through acquisitions in Canada, the United States and Hong Kong. Mr. Stewart is a director of the Canadian Life and Health Insurance Association, the American Council of Life Insurers, and a trustee of CI Financial Income Fund. Scottish Government Minister Linda Fabiani, MSP, Minister for Europe, External Affairs and Culture presented Donald with the Scottish Studies Society's 16th annual 'Scot of the Year' award.

2009 - Flora MacDonald was born in North Sydney, Nova Scotia, in 1927. She was MP for Kingston and the Islands for 16 years, through five elections, from 1972 to 1988, and served in three cabinet positions - - - secretary of state for external affairs, minister of employment and immigration and minister of communications. She is an Officer of the Order of Canada, a Companion of the Order of Canada, and a member of the Order of Ontario. She has received the Jordanian El Kawkab Medal by King Hussein for significant contribution to public service; the Pearson Peace Medal; the Churchill Society's award for Excellence in the Cause of Parliamentary Democracy; and was the first Canadian to receive the Padma Shri Award (India's highest award to civilians) from the President of India for distinguished service in the field of public affairs. She holds honorary degrees from universities in Canada, the United States and United Kingdom.

2010 - Richard Wernham B.A. LL.B has over twenty years' experience in the global wealth management industry and was the founder and Chief Executive of Global Strategy Financial, one of Canada's largest independent mutual fund companies. He is the Chairman of the Soutterham Group, a Special Lecturer in Law, Trinity College at the University of Toronto from 1977-1994 and remains active in the academic community holding appointments as Chair of the Board of Greenwood College School, as a Trustee and member of the Foundation's Joint Foundation/School Strategic Planning Committee of Lakefield College School, and as a Chair of the Investment Committee for Upper Canada College. He has been a significant financial supporter of the academic community, and with his wife, Julia, funded the establishment of the Richard Wernham and Julia West Centre for Learning at Upper Canada College. Richard also co-founded Greenwood College School, a co-educational independent day school in Toronto. The Robert L. Payton Award 2010 was presented to Richard by the Council for Advancement and Support of Education. He is a Governor of the Royal Ontario Museum. The award of "Scot of the year" is in recognition of his role in supporting cultural and educational activities in Canada.

2011 - Robert M. Buchan was born in Edinburgh and raised in Rosyth, Fyfe. He graduated in Mining Engineering and Mineral Economics, earning his B.Sc.(hons) at Heriot-Watt University, Edinburgh, in 1969, and M.Sc. at Queen's University, Kingston, in 1971. He founded Kinross Gold in 1993 and continues his philanthropy and representation on numerous organizations and boards as the Director of the Buchan Family Foundation.

2012 - John Fraser attended Upper Canada College, received a Bachelor of Arts degree from Memorial University (Newfoundland) and a Master of Arts degree from the University of East Anglia (England). At 16, Fraser started summer work as a copy boy and junior reporter at the Toronto Telegram and in following summers was a journalist at the Sherbrooke Daily Record and the St. John's Evening Telegram. By 1971, he was music and dance critic for the Toronto Telegram and served briefly in the same position at the Toronto Sun. He has also written columns for the Toronto Star and the National Post. From 1972 to 1987, he held positions at The Globe and Mail. From 1987 to 1994, he was the editor of Saturday Night magazine. He has been published in The New York Times, The Washington Post, the Christian Science Monitor, The Guardian, The Daily Telegraph, Time, The New Republic, George, The Spectator, Paris Match and the Far Eastern Economic Review. In 1974 he was instrumental in the dramatic defection of ballet super star Mikhail Baryshnikov, and in 1978 he addressed tens of thousands of citizens in Beijing during the short-lived and brutally suppressed Xidan Democracy Wall movement during the Beijing Spring. In 1995, Fraser was elected the master of Massey College and chair of its governing corporation for two seven year terms. He has taught university courses at York University (drama criticism) and the University of Toronto (Canadian culture, and the history of Canadian newspapers). Fraser has received honorary degrees from Memorial University of Newfoundland, King's College in Halifax, N.S., and York University in Toronto. He received Silver Jubilee 1977 and Golden Jubilee 2002 medals from the Queen. He has won three National Newspaper Awards, seven National Magazine Awards, and "Editor of the Year" from the Canadian Magazine Editors Society. His book, The Chinese: Portrait of a People was a Book-of-the-Month Club main choice in 1981 and nominated for the Governor General's Literary Award in non-fiction. A book on the American Ballet Theatre and Mikhail Baryshnikov, Private View, was a Book-of-the-Month Club alternate choice in 1989 and won a Dance Magazine "book of the year" award. In 2001, he was made a Member of the Order of Canada. [Fraser is married to Elizabeth MacCallum and has three daughters.]

2013 - Lewis MacKinnon of Nova Scotia is a poet, writer, singer and songwriter who, in 2011, was crowned poet laureate for the Royal National Mòd – an eight-day celebration of Gaelic music, dance, drama, arts and literature held annually in Scotland. It was the first time in its more than 120-year history that a non-Scot has been named poet laureate. He is better known as the executive director of Gaelic Affairs for the Province of Nova Scotia on Canada's east coast, though some still know him as the young fellow from Antigonish County's Dunmore Road who speaks and sings the Gaelic, even although it has been more than two centuries since his forebears left Moidart and the Isle of Muck in Scotland.

2014 - Canadian politician, diplomat, historian and author Roy MacLaren was born in Vancouver in 1934 and is proud of his Scots ancestry. (His forebears came to Canada in 1803 from Perthshire, settling in PEI.) Roy received a Bachelor of Arts degree from the University of British Columbia with a major in History, a Master's degree from St Catharine's College, Cambridge, a Master of Divinity degree from the University of Trinity College and an honorary Doctor of Sacred Letters degree from the University of Toronto, another honorary degree from the University of Alabama, and in 1973 attended Harvard University's Advanced Management Program. In 2002, he received the Alumni Award of Distinction from the University of British Columbia. During twelve years with the Canadian Foreign Service, Roy's postings included Hanoi, Saigon, Prague and the United Nations in New York and Geneva. He served as the Canadian Chair of the Canada-Europe Round Table and the Canadian Institute for International Affairs. He has also served on the Canadian and British board of directors of Deutsche Bank plus a number of other multi-national corporations. He is also the Honorary Colonel of the 7th Toronto Regiment, Royal Canadian Artillery. MacLaren is currently the Honorary Chairman of the Canada-India Business Council. His historical book, Canadians on the Nile, 1882–1898 was published in 1978 and the following year he was elected to the Canadian House of Commons as the Liberal MP for Etobicoke North. In June 1983, MacLaren was appointed by Prime Minister Pierre Trudeau as Minister of State [Finance]. In June 1984, he was appointed to John Turner's cabinet as Minister of National Revenue and in 1988 he was again elected MP for Etobicoke North. After the Liberals won the 1993 election, he was appointed Minister of International Trade, but resigned that position and his seat in 1996, when he was appointed High Commissioner for Canada in the United Kingdom serving until 2000.

2015 - This recipient for this year is Canadian gold mining legend and philanthropist Robert McEwen, CM. Rob is the Chairman and CEO of McEwen Mining Inc., Chairman of Lexam VG Gold Inc. and was the founder and former Chairman and CEO of Goldcorp Inc., which is the world's second largest gold producer based on market capitalization. Rob's philanthropic efforts are designed to encourage excellence and innovation in health care and education. McEwen has donated in excess of $25 million over the past four years including: $20 million to establish the McEwen Centre for Regenerative Medicine at the Toronto General Hospital; $1.5 million to Schulich School of Business, Toronto, Ontario, Canada; $1.0 million to the Red Lake Margaret Cochenour Memorial Hospital, Red Lake, Ontario, Canada, and $0.7 million to two museums and a church.

2016 - Canadian master of the short story, Alice Munro, was this year's recipient of the Scot-of-the-Year Award. Born Alice Ann Laidlaw on 10 July 1931, in Wingham, Ontario, Canada, her awards include the Governor General's Awards (in 1968, 1978, 1986), the Giller Prize (in 1998, 2004), the Man Booker International Prize (in 2009) and the Nobel Prize in Literature (2003). Her marriage to James Munro in 1951 produced three daughters, and ended in divorce in 1972. Publisher Douglas Gibson, who began publishing her work in 1977 (and has done so for 30 years), received the award on her behalf. Alice retired in Clinton, Ontario, near Goderich. She no longer makes public appearances, and no longer writes.



---

Tartan Day is celebrated in Australia and New Zealand, but is held on July 1st each year for different reasons. The Act of July 1, 1782, repealed the Act of Proscription (1747) after Culloden, and the Scottish Parliament was restored on July 1, 1999. [Australia also became a Federation on July 1, 1901.]

Interestingly, it has not been celebrated in Scotland in like manner for the simple reason that the day is primarily for recognizing the contribution Scots have made elsewhere around the world.


---