ROSS CONNECTIONS: THE McGREGORS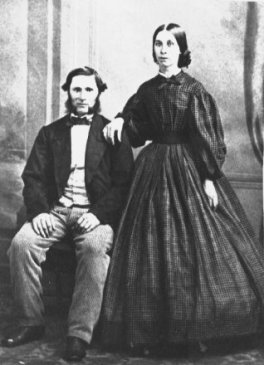 Our thanks go to my aunt Phoebe Jean McGregor (A8C) Ross for preserving this photograph of her grandparents and my grandmother's parents, Peter McGregor and Mary Ann Wilson. Aunt Phoebe has been the source for many pictures in these Photo Archives.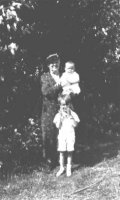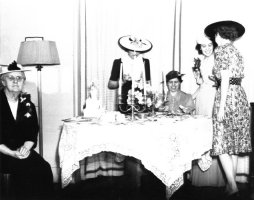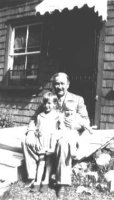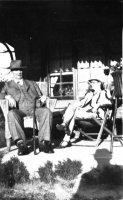 1: My Great Aunt Janet "Jennie" Maria (McGregor) Marshall (1861-1939) is holding my sister Marilyn at the cottage of my grandparents in August of 1935, while I kibitz for the camera.
2: Great Aunt Jennie is seated on the left in Great Aunt Mary's dining room in Drumheller, Alberta, on the occasion of the marriage of Jean Hanley and Henry Ward on August 5, 1940.
3: Great "Uncle John Who Knits", John Russell McGregor (February 24, 1863 - October, 1940), poses with my sister and myself at the Waldemar (Ontario) cottage in 1935.
4: Great Uncle John McGregor is seated with his wife Mary Emile Robinson in front of their home on Manitoulin Island.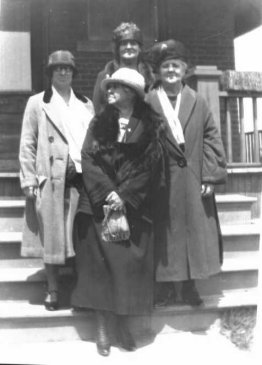 Annie Christie, wife of Great Uncle William Wilson McGregor (1869 - May 17, 1948) of Hamilton, Ontario, is standing at the front in this photograph at the manse in Kilsyth, Ontario. She is flanked, one level up, by my Aunt Phoebe Jean McGregor Ross (A8C) and Great Aunt Jennie McGregor, the wife of James Marshall. My grandmother Phoebe Louise McGregor, wife of Reverend John A. Ross (A8) is standing one step up in the centre.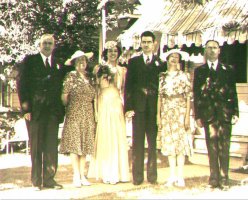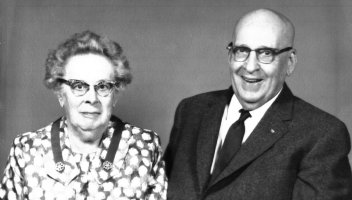 LEFT: In this wedding picture of Janet "Jean" Elizabeth Hanley and Henry Gerrie Ward on August 5, 1940, the couple are flanked (on the left) by Alexander "Sandy" Peter Hanley and Mary Petricia McGregor and (on the right) by Henry's parents. In his booklet, The McGregor Story, Henry traced our very interesting McGregor ancestry to the 42nd Highland Regiment and back to the Glengyle tree of the McGregors.

RIGHT: On their 50th Wedding Anniversary on September 6, 1964, Great Aunt Mary (November 12, 1879 - December 20, 1969) and Great Uncle Sandy (1893 - May 19, 1971) posed for this photograph. Sandy never discovered the 14 year difference in their ages until Mary required a passport for their trip around the world.