CNIB VOLUNTEERS PARTY 2006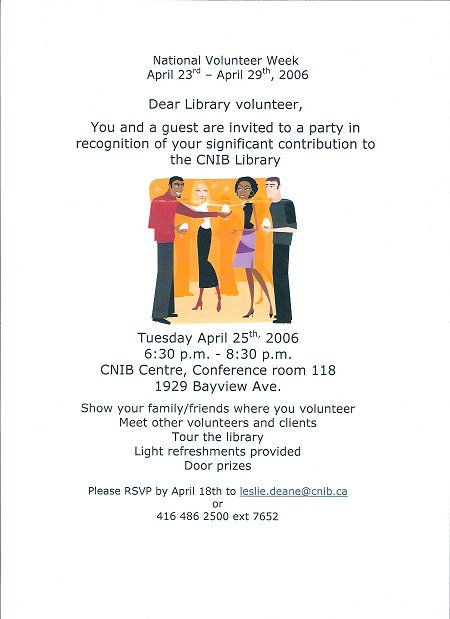 Please visit the CNIB website for more information.

CLICK on any of the following photos to obtain a larger version.



From left to right in the photo below are: Margaret McGrory, Executive Director, Susan Ewing, Director Library Services, Karen Taylor, Director Production and Control, Shelagh Paterson, Director Advocacy, Sales and Marketing and Leslie Deane, Coordinator of Library Volunteer Services.
AUDITORIUM DISPLAY:


LIBRARY TOUR:


AUDITORIUM STOP:


Pat and I returned to the auditorium where she enjoyed some of the sweets, while I thanked the donor of the wine in spite of my type 2 diabetes.
Then I explained to the folks with the seeing-eye dogs that I had refrained from using the flash to take pictures earlier. Jim Sanders said that the dogs probably would not have reacted anyway, and he volunteered to step back while I snapped a photo. I stepped back as well and let him know that I had taken it. In his typical humour, Jim replied, "Now you have two dogs that won't be able to see for awhile."
Please visit
an article about "CNIB Redesigned"
for more details about the exemplary work of the CNIB in Canada.
---

Please use the BACK button of your browser to return.