---
History of the Mausoleum - 1973 to September 16, 2005
---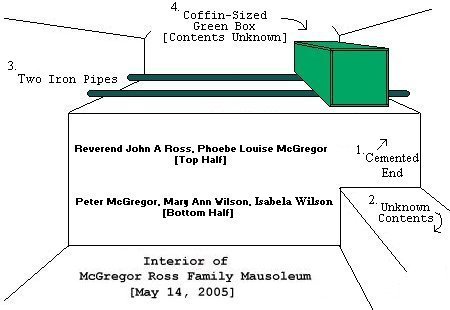 Amalgamation of six area municipalities (Ancaster, Dundas, Flamborough, Glanbrook, Hamilton and Stoney Creek) came under the management of the Hamilton Cemeteries Board in 2001. This resulted in an expansion of its responsibilities from 15 to 67 cemeteries. All records, as well as the care and maintenance of these 67 cemeteries were then kept under one roof at 777 York Boulevard in Hamilton.

Like any historian, I'd prefer facts over speculation in the completion of this page. Thus, I had arranged to meet Mr. Peter Christie, Superintendent of Cemeteries (Hamilton Cemetery Board), Phone:(1-905-546-2424 Ext.2835), on Saturday, May 14th of 2005, at the Old Union Cemetery in Waterdown (Municipality of Flamborough). As my wife and son and I drove up in our car, we parked behind the mausoleum in front of Mr. Christie's car, and we noted that there were also two trucks from the Hamilton Works Department parked beside the mausoleum.

The fellows from the Cemetery Works Department mentioned that there had been considerable damage by vandals to tombstones in the pioneer section of the Old Union Cemetery. It was evident from the graffiti and disrepair, that the century-old mausoleum was becoming a blight upon the north section. They remarked that the door had been without a lock for some period during the past.

The interior of the mausoleum was quite a shock to me. The workmen said that the top of the casket-sized green box had been nailed shut just before my arrival. No-one seemed to know the contents but, for the past several years, the mausoleum had been used as a vault or death house to store human remains over the winter while awaiting proper burial in the spring. Two iron bars had been installed to raise the boxes above the cemented area which encased my ancestors.

I gave Peter a lock to replace the one he had purchased, and he promised to contact me with further details about the mausoleum and my possible plans for repairs.
---
CORRESPONDENCE
After I phoned Peter on June 15, Peter Christie kindly replied as follows by email:
Sent: Thursday, June 16, 2005 12:32 PM
Subject: RE: Waterdown's Old Union Cemetery
Hello Doug,
To update you on what is taking place . . .
Arrangements were made to have the graffiti removed from the exterior of the mausoleum.

We have also contacted a welding fabricator to repair or make a new door for the mausoleum as well as fabricate a wrought iron gate for the exterior for added security. Once we receive the prices we can proceed with getting this portion completed. Unfortunately it is somewhat of a slow process as we have to follow all of our corporate policies when contracting or purchasing any services.

A local restoration contractor which does a significant amount of work for the city is also looking at the rest of the mausoleum and he will be giving us a quote on the cost of restoration and what will be involved.

To date we have not had too much luck finding out a history of events and work done with respect to the mausoleum, but I did find out that the mausoleum was broken into sometime in 1998 or 1999 just prior to amalgamation. We are following up on this with the former caretaker.

As I find out further information I will be in touch, but I am happy to say we are moving forward, all be it, a little slowly.
Sincerely
Peter Christie
Sent: Thursday, June 16, 2005 3:46 PM
Subject: Re: Waterdown's Old Union Cemetery
Hi, Peter :)
I would like to be informed about each activity, so that I can make a photographic record for the website. Failing that, I would appreciate it if someone could take pictures of any activity for the historical pages. Proper credits will be given for such photographs.

It is also important to me that I can approve the costs at each stage so that I may set aside funds in advance. I am sure that the policies of the cemetery board will ensure that we obtain the best service in restoring the building. It makes more sense to use local talent.

Perhaps very little extensive effort needs to be undertaken with the "removal" of the graffiti, since our plan might be to cover the exterior with a protective covering of grey stucco after all of the other work is accomplished.

I concur with the decision to make a new door for the mausoleum as a first step. It is also sensible to fabricate the wrought iron gate at the same time. They will need to be stored until work on the door frame is completed. Could you let me know the costs of these items when the metal worker provides you with his estimates?

Please have your local restoration contractor include the cost of constructing niches for urns using pilasters along the east end wall of the mausoleum. I would imagine that each section will measure 12"X12"X24". Since there is no immediacy in placing the urns in a columbarium, there would be sufficient time for proper markers to be made before they are sealed each time. I would consider this work to be equally as important as any repairs to the exterior.

Thank you for the information which you have provided today. I hope that I shall be equally happy with the history of events prior to the amalgamation of services. The records of those events should have been placed in your hands at that time. I am especially interested in explanations of the differences between my sketches depicting June 20, 1973 and May 14, 2005. They are located in my webpages for "history" at
http://www.ross-ter.com/Ross-ter_Reports/Mausoleum/MRM.html
.

Considering how poorly the records of the mausoleum were kept in the past, I have endured some rather unsettling thoughts that the remains of somebody's pet dog or a transient (or worse) may have been cemented into the space inside the door to the right side.

I am currently studying the genealogical charts of the Glengyle House of McGregors. It appears that Peter's grandfather, Captain Peter McGregor of the Black Watch, had a cousin Sir Gregor McGregor who fought in South America and died in Venezuela. Apparently Peter's grandfather also saved the life of the Prince Regent
(1)
, afterwards King William IV, at the Battle of Maida during the Peninsular Wars and, when he retired, he received a large grant of land (500 acres in Upper Canada) in recognition of his having saved the Prince's life.

While we visited the mausoleum, I mentioned that our ancestors (contained therein) were descended via the House of Glengyle from Griogar, the son of King Alpin, in the 8th century. My son Rob has developed a wee bit more interest in his genealogy since that day.

Thanks again for your reply. I trust that we'll learn more about the history of the mausoleum.
Sincerely,
Doug Ross
NOTE
(1)
: Actually, Prince William was the younger brother of the Prince Regent (Prince of Wales). William was named Duke of Clarence in 1789 and King William IV in 1830. The Battle of Maida occurred during the Napoleonic Wars in 1806 just prior to the Peninsular Wars, and it proved to the British that Napoleon's French forces were not invincible.
---
Sent: Friday, August 19, 2005 1:54 PM
Subject: The McGregor Ross Mausoleum
Sent To: Peter Christie, Superintendent of Cemeteries, Hamilton Cemetery Board, with a copy to Sylvia A. Wray, Archivist of the Flamborough Archives.
Another month has gone by all too quickly. I had some interesting comments from relatives at our 75th Annual Ross Family Reunion in Holstein, Ontario. Before the end of the month, I shall phone four phone numbers of McGregors living in Waterdown. During our hectic schedule for Scottish Festivals, I visited the tent of Clan Gregor - Canada and I have subsequently contacted him (attaching a photo of their clan tent) and informing him about my updated McGregor story as well as my proposed restoration of the mausoleum of Peter McGregor and Reverend John A. Ross in the Pioneer Union Cemetery in Waterdown.
I have felt that it might be helpful if there was a link to the significant section of the McGregor genealogy which includes the genealogical data for Peter McGregor's descendants (which naturally includes my grandparents). The link is at the bottom of the "History of the Mausoleum to 1973" . . . at
http://www.ross-ter.com/Ross-ter_Reports/Mausoleum/history1973.html
.
I recall (from a meeting with Robert Kelly in Guelph) that his booklet about the Cemeteries in Waterdown mentioned only my aunt's name in the "crypt" in the Union Cemetery. I am interested if there is a record of the burial of John Russell McGregor and his wife Mary Emile Robertson in his booklet. I have a photograph of "Uncle John Who Knits" holding me at the cottage of my grandparents in Waldemar in the summer after I was born, and I was wearing one of his woollen outfits.
The update of Henry Ward's "The McGregor Story" has been completed, and I can attach a Word document for the Flamborough Archives if that is desired.
Doug Ross
Sylvia Wray and I exchanged emails on September 6; the Flamborough Archives does not appear to have a copy of Robert Kelly's book on cemeteries, circa 1982, but does have a copy of the cemetery records from the Hamilton branch of OGS. No response has been received from Peter Christie, Superintendent of the Hamilton Cemetery Board as of September 16, 2005.
---
Email Sent: Friday, September 16, 2005 10:35 AM
Subject: The McGregor Ross Mausoleum
Sent To: Peter Christie, Superintendent of Cemeteries, Hamilton Cemetery Board, with a copy to Sylvia A. Wray, Archivist of the Flamborough Archives.

I just checked the calendar and noticed that it is time for my mid-month "progress report" update for the McGregor Ross Mausoleum website. Winter is approaching quickly, and there is little doubt in my mind that the weather will not be kind to the condition of the building.

Once again, I thank Sylvia Wray, Archivist for Flamborough Archives, for her response and I have emailed a copy of "The McGregor Story" by Henry Ward with a preface to the second printing by myself. The history of Limestone Hall may be of some interest locally. I was heartened to learn that the Arichives has a copy of transcriptions and burials at the Waterdown Cemetery published by the Hamilton Branch of the Ontario Genealogical Society, and that it will not be a problem to check the records for John Russell McGregor (February 24, 1863 - October, 1940) and his wife Mary Emile (Robertson) McGregor (October 21, 1866 - 1931).

I would appreciate any further details pertaining to the Old Union Cemetery and the McGregor Ross Mausoleum in particular. It would greatly assist me to be able to write a positive article in my end-of-year (November 30th) family newsletter.
---
Email Received: November 8, 2005 12:55 PM
Subject: The McGregor Ross Mausoleum
From: Sylvia A. Wray

I have gone through the old list of burials in Union Cemetery, Waterdown that dates from 1916 and found that Mary Emily McGregor is listed as 2 July 1931 and John Russell McGregor is listed as 30 October 1940. Neither of these persons has a marker to identify the site of their burial or is listed on a McGregor marker. John Russell is listed as interred in Lot 1, Block 7.

There is one other McGregor listed in the burial book, (Judith Patricia McGregor on 22 July 1933) who also has no monument or is listed on a McGregor monument.
---
The email from Sylvia Wray, Archivist for Flamborough Archives, has confirmed my entry about the known contents of the McGregor Ross mausoleum. It has also supported my update to Henry Ward's "The McGregor Story", for which I express my appreciation once more.

The Judith Patricia McGregor was not a member of any McGregor family recorded in Henry Ward's booklet. I have already taken a photo of the monument to Doctor John O. McGregor, a highly revered settler in Waterdown's early history, who was Peter McGregor's youngest brother.
---
This record continues as a journal.
---