INVITATION TO THE 70th ANNUAL ROSS REUNION
MONDAY, AUGUST 7, 2000, AFTER 2:00 PM (CIRCLE THIS DATE)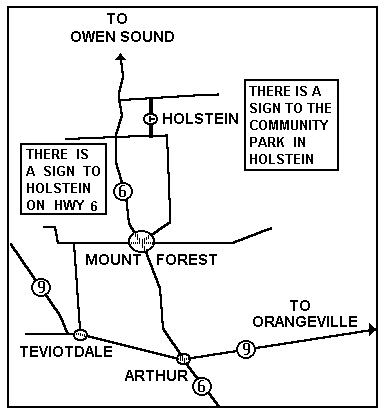 During the history of the Ross Reunion, each of the five surviving branches of ALEXANDER ROSS and MARGARET NOBLE has been represented among the participants. These branches are:
A. . ALEXANDER ROSS & JESSIE FRASER
D. . DONALD ROSS & MARY ANN MADILL
E. . ISABELLA ROSS & WILLIAM YOUNG
G. . RODERICK ROSS & CHRISTIANA JUNOR
I. . CATHARINE ROSS & MALCOLM FERGUSON
Throughout the years, the two branches (A and G) from the Minto Twp. area of Wellington County in Ontario have earned our thanks for keeping the spirit of the first annual reunion of 1929 alive. Thus, the 70th one in 2000 is a major bench-mark.
LOCATION : The Pavilion in the Community Park at Holstein, Ontario
HOW TO GET THERE : Use the above map (or a Hwy map for Ontario) as a guide.
WHERE TO STAY : Check the Tourist Information Centres if you are from outside Ontario. There are several nearby motels.
WHAT TO BRING : First and foremost, bring yourselves. A table-cloth, cutlery and cups are a good start. Bring your cooler with a sensible selection of easy-to-transport-and-store picnic edibles (meat, buns, salad or dessert) for the buffet; there is always plenty of variety! Drinks and plates are provided. Many folks bring folding chairs to watch the sports activities.
ANNUAL FEE : The Secretary-Treasurer will collect $10 per family (or $7 per individual) to cover prizes, rental of the pavilion, mailing charges, and coffee/tea/drinks.
THE 2000 EXECUTIVE :
Lunch Committee - Frances Kaster, Suzanne Love
Sports Committee - The Murray Hassard Family
Secretary-Treasurer - Deanna Ross
Past President - Doug Ross
Vice President - David Romphf
President - Velma Fell
DISPLAYS : Bring old pictures or albums if you wish. There will be Books and Booklets and Family Trees. The five binders of the ROSS-TER will also be displayed.