Raised in Saskatchewan during the 1910's, Scots historian John Prebble wrote "[The Canadian Scots there] were fiercely nationalistic, and their emotional nostalgia dominated my childhood. I was impressed by images of blue mountains and black lochs, by all that Caledonian-stern-and-wild-fever of the Scots exile. Despite my parents' staunch Anglo-Saxon patriotism, I began to believe in Scotland as my homeland. I promised myself that I would visit Scotland some day, and Scotland in this sense was always the Highlands. I did not do so until I was 22, and by a happy accident ... it turned out to be all and more of what I had dreamed."

A few years after Pat and I visited Scotland in 1974, John greatly assisted me in my genealogical quests by recommending one of his researchers, Jan Reid, whom he later married in 1994 (his second wife). I wrote a him a "thank-you letter" to which he replied in July of 1978 as follows: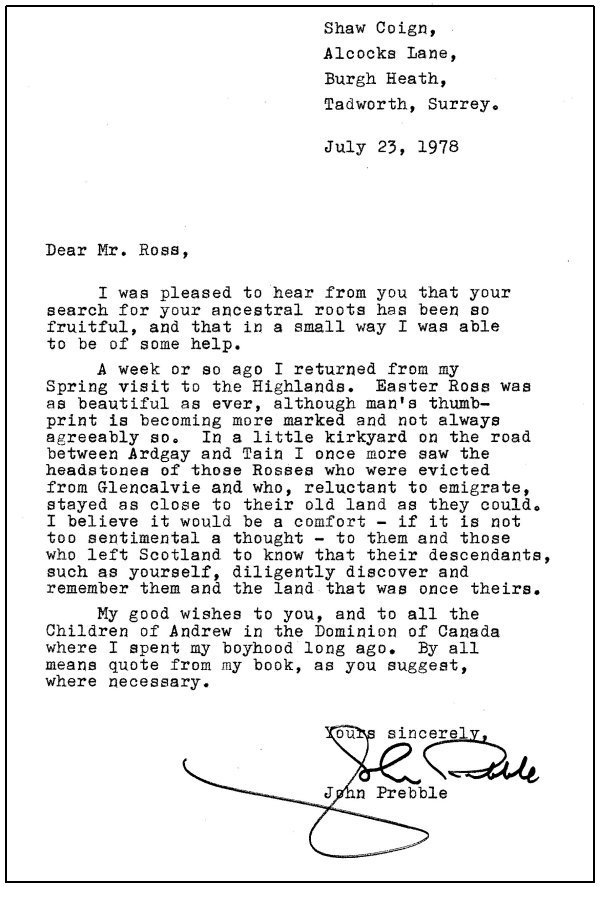 My manuscript
Our Ross Family Story
, a history for the descendants of Alexander Ross and Margaret Noble, was copyrighted in the same year as his letter, and it was published by 1980. Subsequently, an abridged account was started on
The Ross Settlers, A Story of a Pioneer Family in Ontario
. It was fitting and proper that both be prefaced by a tribute to the person who provided the initial inspiration for the tales.

John Prebble, author of many books and an authority on Scottish history, died on January 30, 2001, at age 85.