SIR GEORGE WILLIAM ROSS
Honouring Sir George William Ross
Clan Ross in America was founded in New York City in 1910 by a group of prominent Canadians and Americans. The first elected president was Senator Sir George William Ross, LL.D., former Premier of Ontario (1899-1905), who was born near Nairn, Middlesex County, Ontario in 1841 to parents James Ross and Ellen McKinnon (natives of Easter Ross in Scotland). Sir George presided at the second meeting of the Clan Ross Society in 1912, and a slate of distinguished officers was elected. The organization held another well-attended ceilidh before his death in 1914. The Clan made plans for a third gathering in Toronto in 1915, but it was cancelled with the outbreak of World War I. This society never came together again.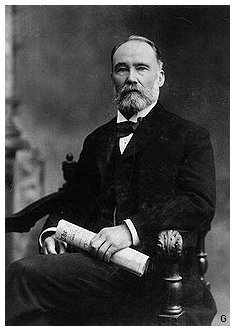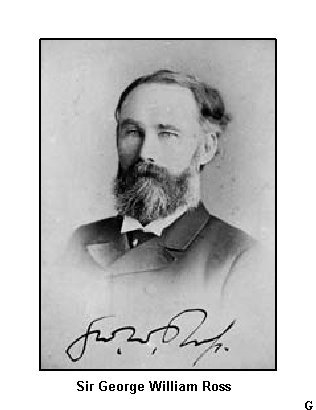 We thank Valerie-Dawn Girhiny, member of the Clan Ross Association of Canada, for sharing these photographs of her Great-Great-Great Grandfather with us.

We are indebted to the Ontario Heritage Trust for the brochure and the programme honouring five former Premiers of Ontario, whose plaques were unveiled on Thursday, October 15, 2009, at the Mount Pleasant Cemetery Visitation Centre in Toronto. We also acknowledge contributions of photographs from others, including your webmaster, by inserting a letter in the lower right corner of the picture; please see the "key" at the end of this report.

A larger version of photos may be obtained by a LEFT CLICK on the image. A second LEFT CLICK on some images may produce the largest picture.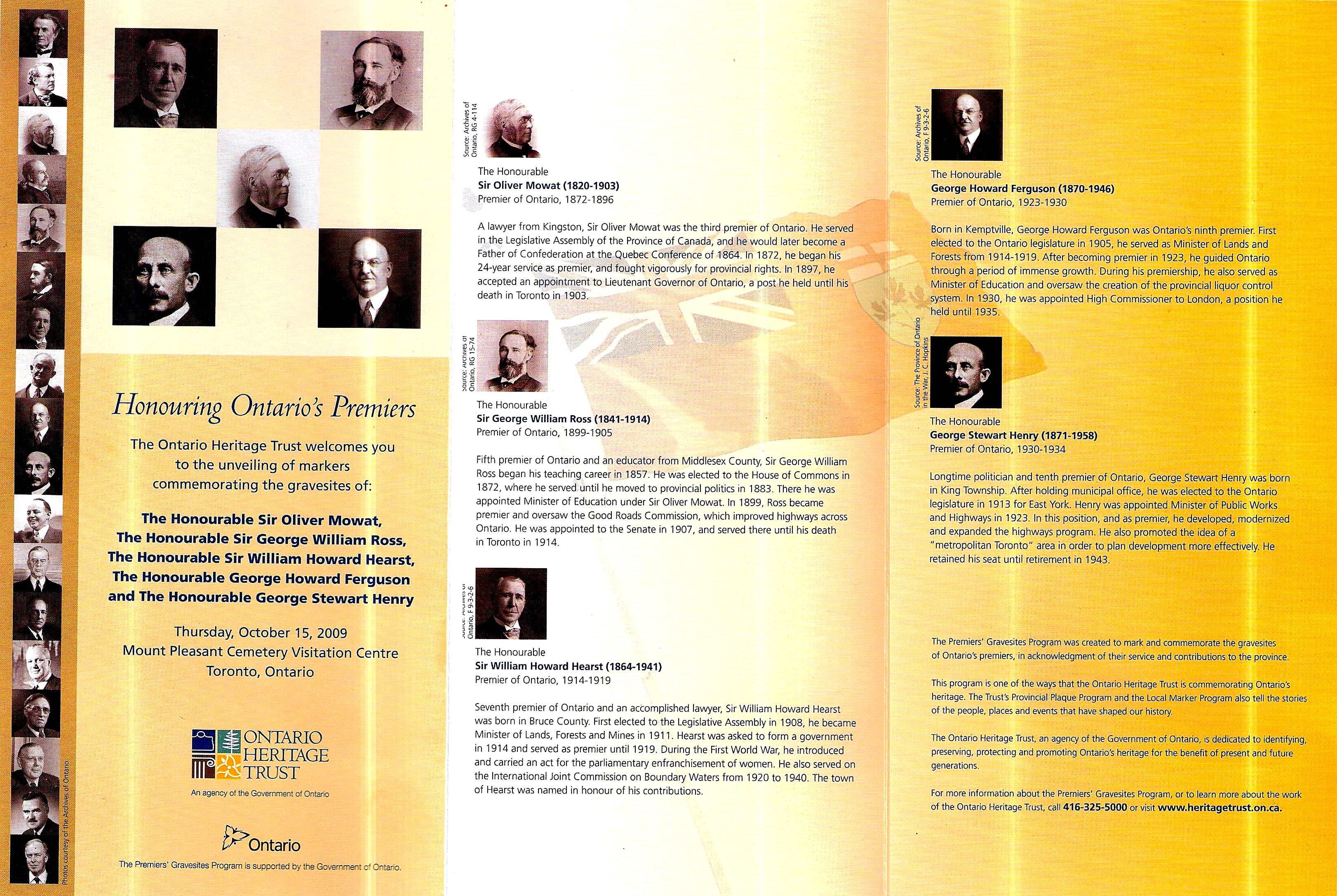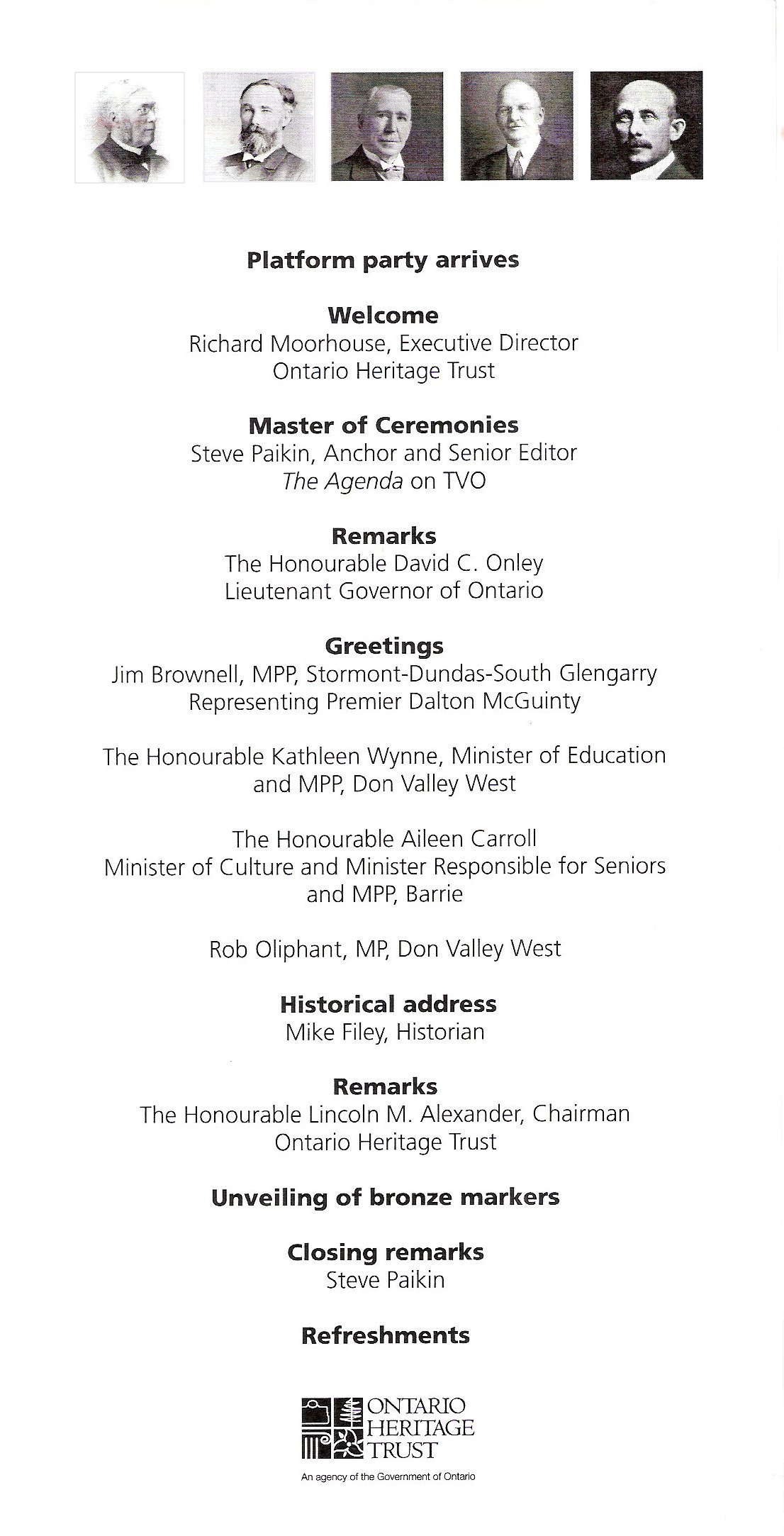 Photographs of the platform party are shown in the order in which they appear in the programme . . . from Steve Paikin to the Honourable Lincoln M. Alexander.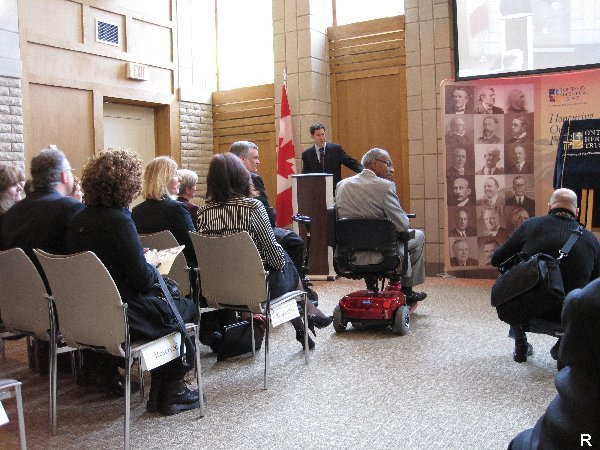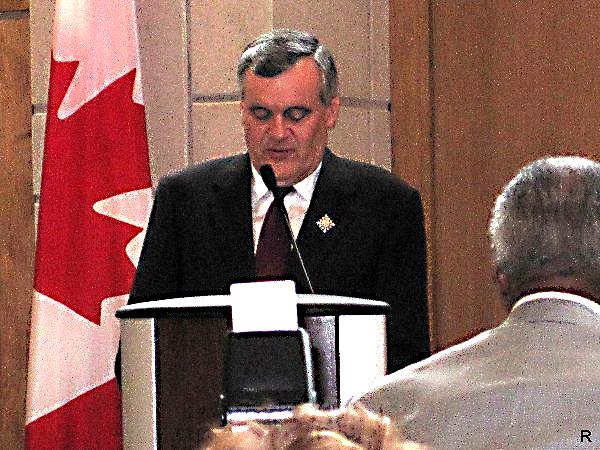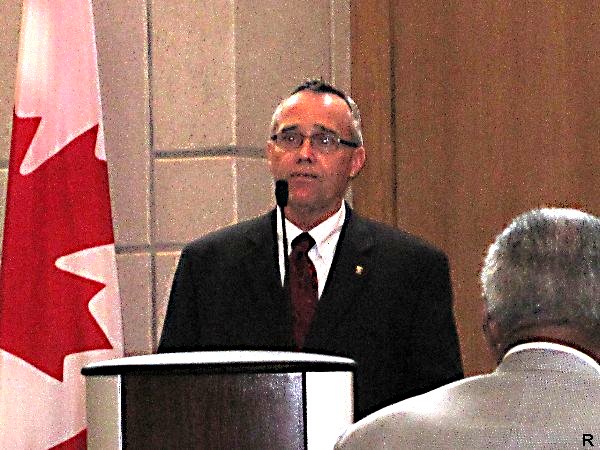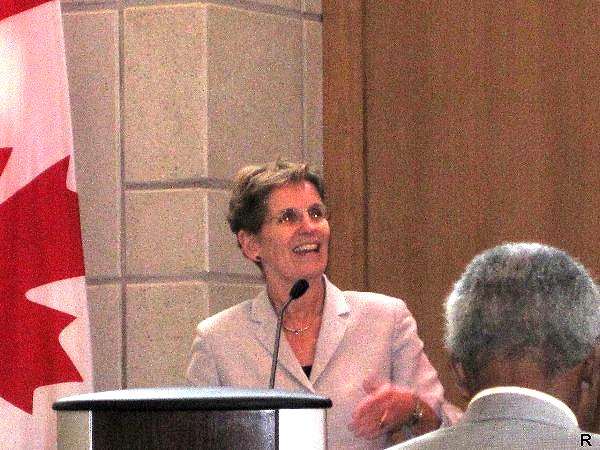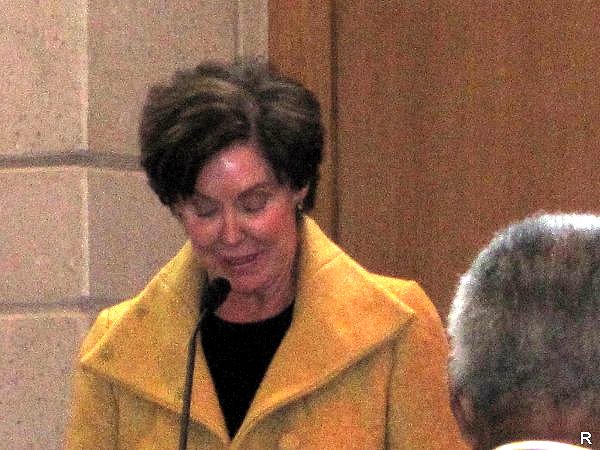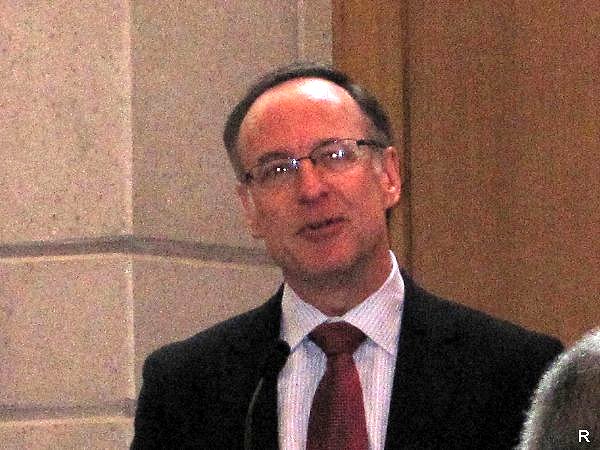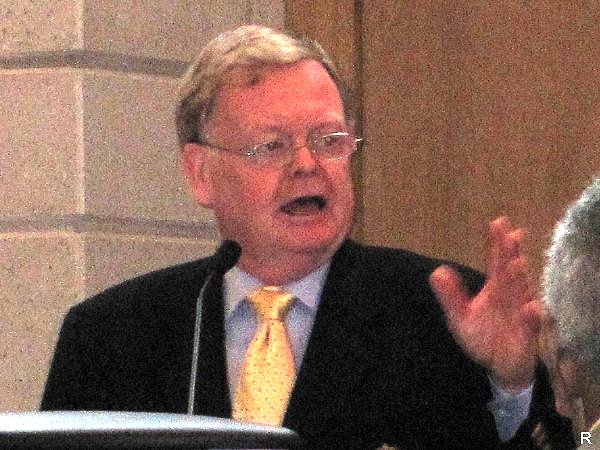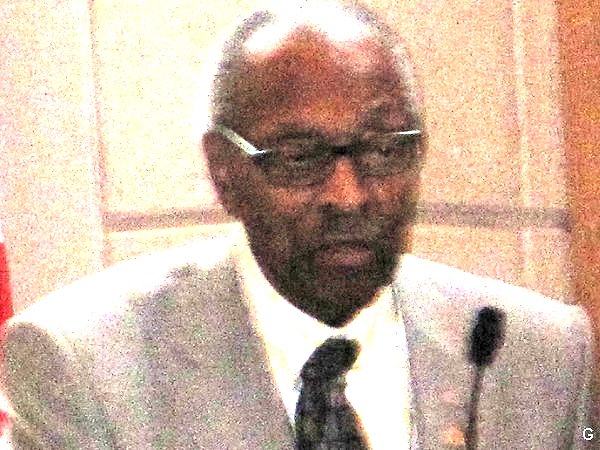 Mickey Mehal, Great-Great-Granddaughter of Sir George W. Ross, alerted me to a newspaper column by
Jim Coyle in the Toronto Star
on the following Monday. Among other things, he reports that Lincoln Alexander said,"What the five former premiers did was help Ontario win the vote for women, strengthen provincial rights, build better highways and enhance the education system."
The ceremony continued with the unveiling of the bronze markers by the Honourable David C. Onley, Lieutenant Governor of Ontario. Family representatives were invited to join the platform party, and photographers were given ample time to record the event. Mickey Mehal (gt-gt-granddaughter of GWRoss) and Dr. Valerie-Dawn Girhiny (gt-gt-gt-granddaughter of GWRoss) are standing on either side of the brass marker. Jan Hunter (née Saddington, cousin of Mickey Mehal, also a gt-gt-granddaughter of GWRoss in the line of Jenny) is standing to the left of David Onley in the following picture. [NOTE: We met Janet (Saddington) Hunter and her husband David Hunter at the Clan Ross tent during the
Fergus Scottish Festival and Highland Games
in 2005.]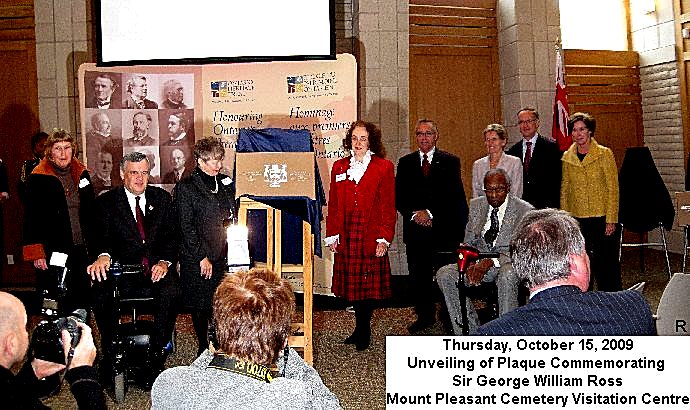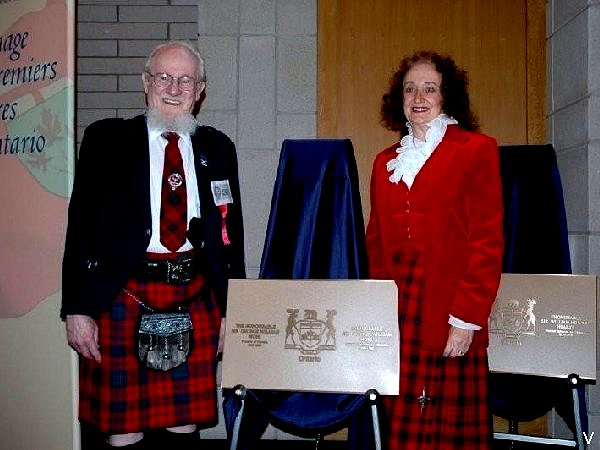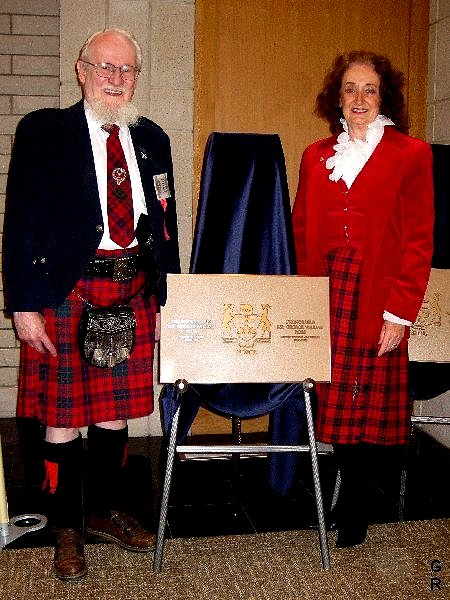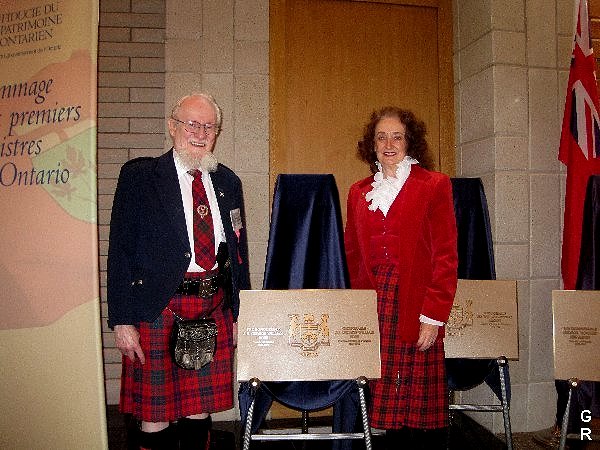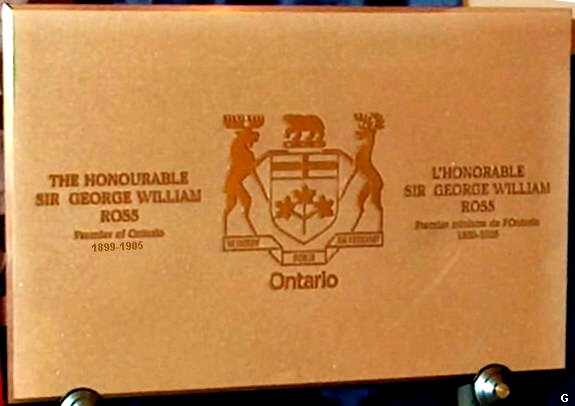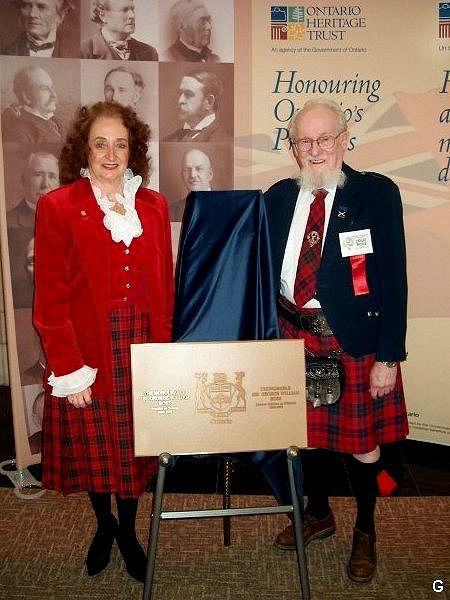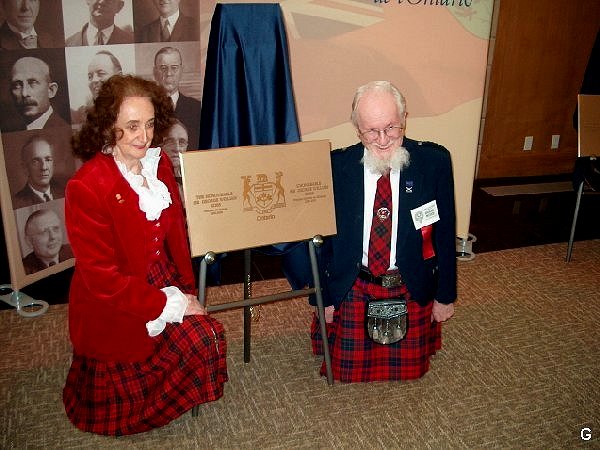 ---
One week after the ceremony, I drove to the Mount Pleasant Cemetery in order to obtain pictures of the gravesite of Sir George William Ross. The overcast sky was ideal, since harsh shadows and glare on the stonework were avoided. The monument is located at Plot V Lot R on the map.

A marker to "MOTHER" is in the ground just west of the monument. The markers for two sons are on the south side.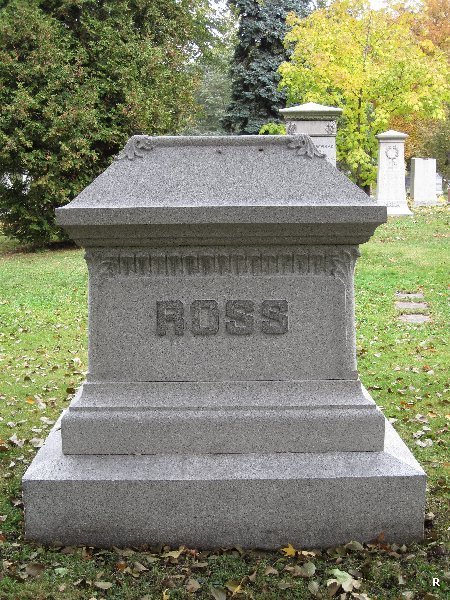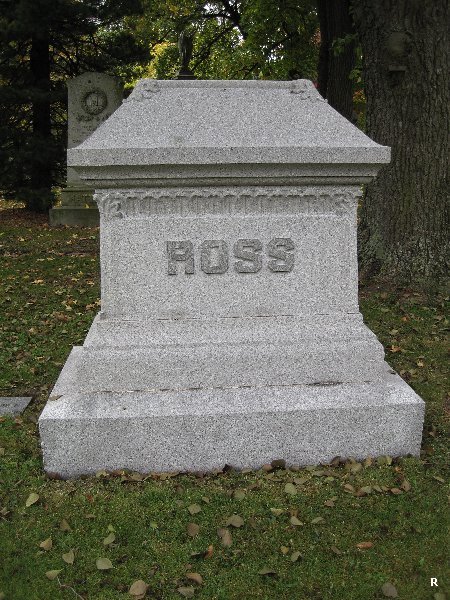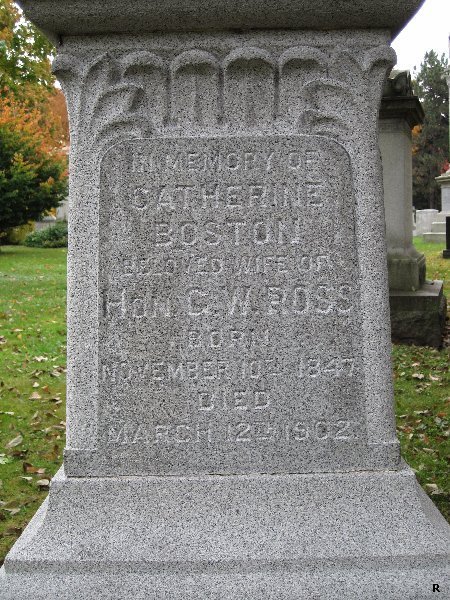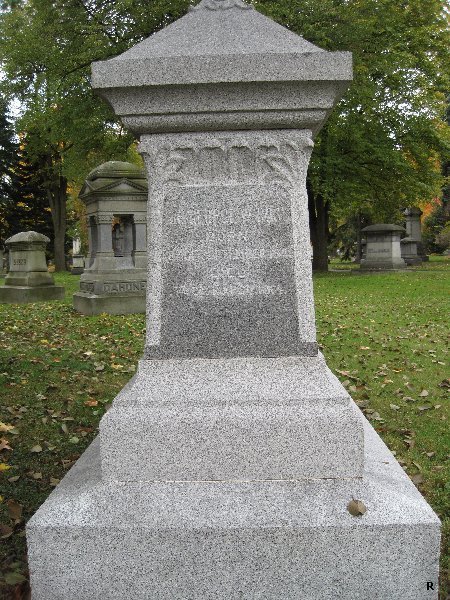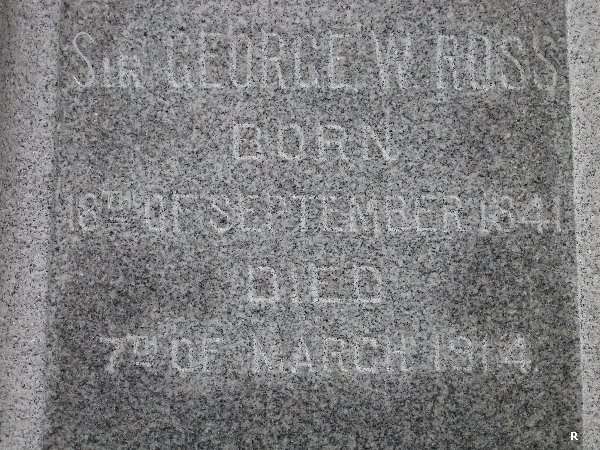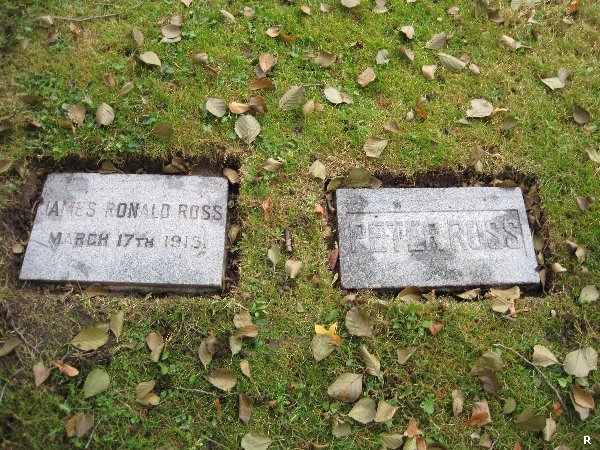 ---
One of the best references for biographies of key Canadians was begun in 1959 by the University of Toronto and Laval University. You are invited to consult
the online version
from which the following excerpts were taken:
"ROSS, Sir GEORGE WILLIAM
, educator and politician; b. 18 Sept. 1841 near Nairn in Middlesex County, Upper Canada, son of James Ross and Ellen McKinnon; m. first 1862 Christina Campbell (d. 1872), and they had three daughters and two sons; m. secondly 17 Nov. 1875 Catherine Boston (d. 1902) in Lobo Township, Ont., and they had a son and three daughters; m. thirdly 8 May 1907 Mildred Margaret Peel in Toronto; d. there 7 March 1914."
"The naval debate was Ross's last major campaign. On occasion the rheumatism which had afflicted him since the 1880s kept him away from the Senate, and in the spring of 1913 he carne down with a mild attack of pneumonia. On 24 Jan. 1914 he collapsed suddenly while speaking to the Senate. Rushed back to Toronto, he remained in hospital until his death on 7 March; he was survived by his third wife, two sons, and six daughters."
---
I was delighted to hear from Ross Orville Lyttle on June 22, 2012. Orville is a grandson of Sir George William Ross (1841-1914), a founder of Clan Ross in North America one hundred years ago. His genealogy charts are very complete from his mother Margaret Sarah Ross, daughter of Sir GWRoss and Christina Campbell (1870-1909). There are many blanks in the families of the other two daughters and two sons of this first marriage. Fortunately, our former member Susan Wilson Tait has compiled an excellent genealogy chart for the descendants of Sir GWRoss and Catherine Boston (1847-1902), including the three daughters and one son from this second marriage. I encourage anyone with contacts and information to help Orville complete the chart. Orv is to be congratulated for his dedication to this project.
---
Key to the Immediate Sources of Photographs or Scans:
G = Girhiny, John and Valerie-Dawn (gt-gt-gt-granddaughter of Sir George William Ross)
R = Ross, J. Douglas (webmaster for the Clan Ross Association of Canada, Inc.)
V = Veal, Janette (member of the Clan Ross Association of Canada, Inc.)


---