FAMILY GROUPS AT TIMES PAST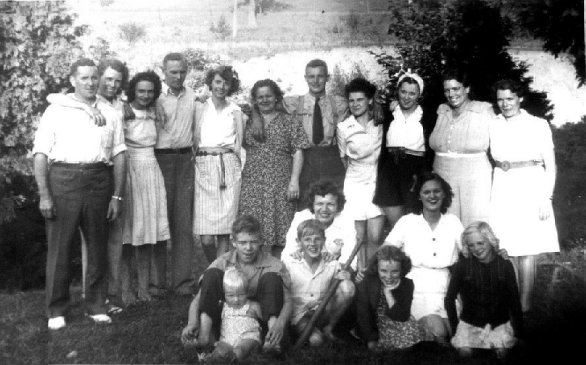 A Badgley Picnic was held at Geneva Park north of Oshawa in 1940 before "Sonny" Badgley was sent overseas. In the back row: my father John C. A. Ross, my Aunt Ada (Badgley) Lockwood, cousin June Flavelle, Uncle Earl Lockwood, [June's friend Kaye Burrows], Aunt Marguerite (Hallett) Badgley, cousin "Sonny" Badgley, his wife Marion (Boyle) Badgley, [Helen's friend Winnie Stevens], Eva (Badgley) Flavelle and my mother Beatrice (Badgley) Ross. In front: cousin Bill Badgley is sitting behind cousin Bill Lockwood, cousin Helen Badgley is sitting behind me and Florence Flavelle (niece of Joe and Eva) is sitting between my sister Marilyn Ross and my cousin Lois Lockwood. The photo was likely taken by Uncle Joe Flavelle.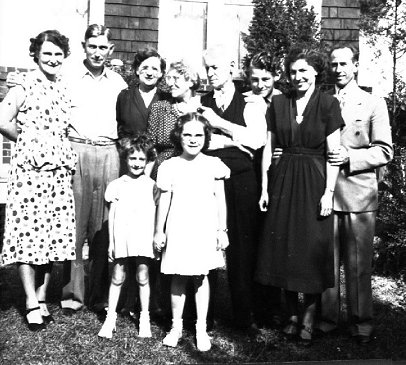 At a Luck Family Gathering in 1948, this photo was probably taken by Pat's father Robert Bassett. In back are her mother Eva May (Luck) Bassett, Uncle Arthur Luck and his wife Liliane, grandparents Agnes and Arthur Luck, cousin Ed Luck (Aunt Vi's son) and Bea and her husband Frank Lane (a relative of Aunt Lil). In front are sisters Helen Arlene Bassett and Patricia Dianne Bassett.