SPECIAL: FROM BRANCH "D"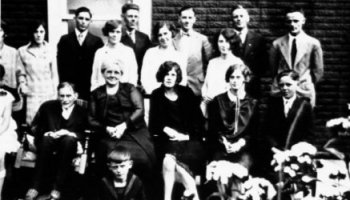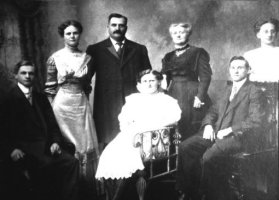 LEFT: This photo if the family of Henry "Harry" Ross and Winnifred Stokes is through the courtesy of Olive (Ross) Cook (D2C). BACK ROW: Madeline (D2K), Effie (D2I), Frank (D2J), Donald (D2F), Bruce (D2G), Ken (D2A) and Forrest (D2E). MIDDLE ROW: Olive (D2C), Nettie (D2B) and Muriel (D2L). SEATED: Marion (D2N), Henry "Harry" Ross (D2) and Winnifred Stokes, Kathleen (D2H), Eldred (D2D)and Harold (D2M) with John (D20) at the very front.
RIGHT: This photo of the family of John D. Ross and Henrietta Hartrick is courtesy of William John Ross (D3D). Moving from left to right: William (D3D), Cora (D3A), John D. Ross (D3) Mamie (D3E) seated, Henrietta Hartrick (wife of D3) Oscar (D3B) and Nettie (D3C).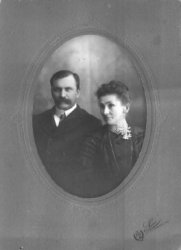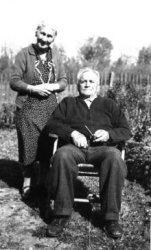 Florence (Ross) Rankin (D4C1) mailed both of these photographs to me on May 17, 1999. The first one is John D. Ross (D3) and his wife Henrietta Hartrick by photographer E. L. Lane of Glenboro, MB. The second one is Lorilla Jean Chant and her husband Donald D. Ross (D4).