SPECIAL: FAMILY A4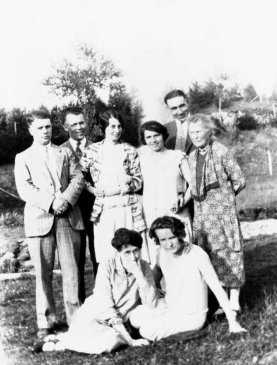 Family of James A. Ross and Mary Ross
This photograph is from the collection of Phoebe Jean McGregor Ross (A8C).

STANDING: James N. Allen (A4Cspouse), William "Bill" James Ross (A4B), Mary McCharles (A4Bspouse), Evelyn Stevens, Norman Clegg and Mary Ross (A4spouse).

SITTING: Liza Ross (sister of Mary Ross, both of whom came from a different Ross family with origins near Aberdeen in southern Scotland) and Mary Mabel Ross (A4C).


THE MINTO CHALLENGE (1999): Find a photograph or a photo montage of the 1897 Council of which James A. Ross (1844-1913) was a member. He was the first Ross to be a member of the Minto Township Council, and the following clues point to the possibility that such a picture could exist:
1. A photo-montage of the 1898 council may be found on page104 of the way it was ... A History of Minto Township. Ann and Ara Aitchison were the source of these photographs.
2. James A. Ross was on the 1987 council. (He lived in Harriston, and died in Minto Township.) Other members of the same council were Ebeneezer Aitchison, Thomas Harrison, Albert Connell and James Kerr.
3. There were photographers' studios in both Palmerston and Harriston at least 20 years prior to 1897.
Please use the BACK button of your browser to return.

© The Ross-ter Collection