NEWSLETTERS: 1999 ABOUT US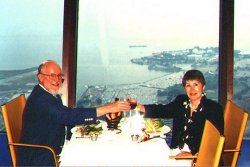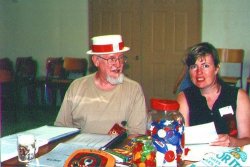 ABOUT US
On July 1 of 1999, Pat and I celebrated our 32nd Anniversary by having dinner on the revolving restaurant atop the CN Tower. [Skyline Hotels (and others) in Niagara Falls have refused to take advance bookings for the past three years because of the lucrative Japanese tourist trade which has been attracted by the gambling casino. Guess who won't receive any business from us when that tourism declines.]

The next photo was taken by Pat at the beginning of the business meeting for the 69th Annual Ross Reunion. Our Secretary-Treasurer, Deanna Ross (A3D6C), not only did her job but also presented the prizes when the Sports' Committee left the pavilion to play with the youngsters outside. The Vice-President, Velma Fell (A3F3), sent a message from Barrie that she would be unable to attend this year ..... and I (A8E1) am probably asking Deanna if she thought we could handle the entire meeting by ourselves!
Please use the BACK button of your browser to return.

© The Ross-ter Collection