NEWSLETTER 2000: FAMILY E3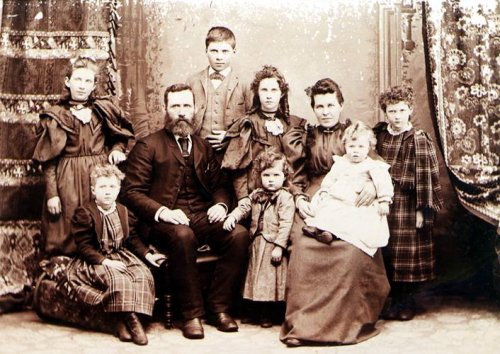 The Family of Roderick Young and Isabella Ann Fraser
This photograph, sent as an email attachment on August 16, 1999, by Gwyneth Pearce (E3G2A), was most likely taken around the time of the 16th Wedding Anniversary of Roderick and Isabella.

STANDING: Jane Noble Young (E3B), William Young (E3A), Isabella A. Young (E3C) with Donald Fraser Young (E3F) in front and Margaret Elsie Young (E3D).

SEATED: Helen Marjorie Young (E3E), RODERICK YOUNG (E3) and ISABELLA ANN FRASER (E3spouse) with Colin John Young (E3G) on her lap.

NOT YET BORN: Jemima Rodena Young (E3H), Elizabeth Lydia Young (E3I), Frances Amelia Ann Young (E3J) and Dorothy Louise Alexandra Young (E3K).

NOTE: See also Colin Noble and Margaret Hardy of Scott Township in the "Connections" section of these Photo Archives.
Please use the BACK button of your browser to return.

© The Ross-ter Collection