CHRISTMAS NEWSLETTER: 1999
SPECIAL: Ae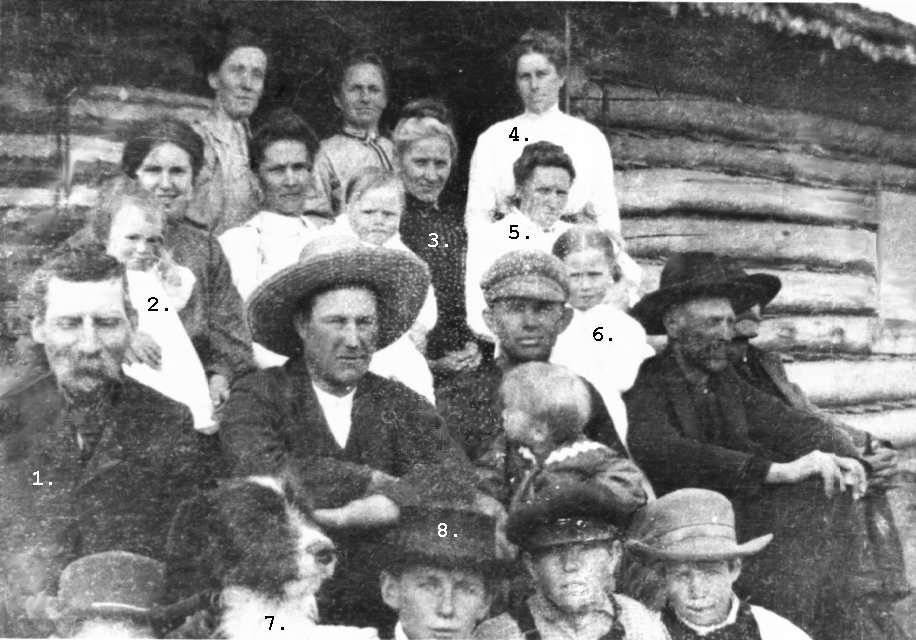 A Gathering of Pioneers from Northern Valley
On July 21, 1980, Vera (Ross) Blazenko (AeC1) sent this photograph of a pioneer gathering, circa 1910, at the two-roomed homestead of Joseph Keller, thirty-six miles north of Vermilion, Alberta, in a district once known as Northern Valley. We also thank Vera for mailing a fascinating account of pioneer life, co-authored by Nellie Christena Keller Kepke.

The following are identified: 1. DONALD ROSS (Ae), 2. baby Nellie Christena Keller, 3. CHRISTENA RUTHERFORD (Ae-spouse), 4. "Teena" Ross (AeA), 5. Mrs. Joseph Keller, 6. Margaret Ross (AeC), 7. "Bruce" the dog and 8. Rutherford Ross (AeB).

This photograph was included in the "Contributions to Our History" section of the 1999 Christmas Newsletter.

---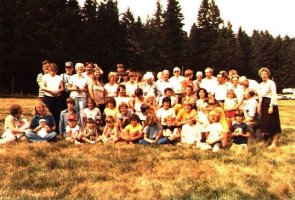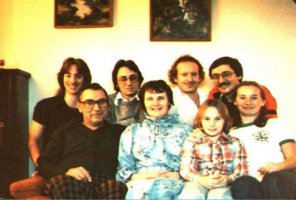 LEFT: Descendants of Donald Ross (Ae) and Christena Rutherford held a "Cousins' Reunion" on August 16, 1980, at the farm of John Heyd (AeA3) in Duncan, BC. A representative group from the Heyd families had just returned from the 50th Annual Ross Reunion in Holstein, Ontario, where I had the honour of serving as President.

RIGHT: These photographs were mailed to me by Vera Ross (AeC1) who is seen with her family in 1981. BACK ROW: Gregory (AeC1D), George William (AeC1C), Murray Macauley (Margaret's husband) and Gordon (AeC1A). SEATED IN FRONT: WILLIAM BLAZENKO and his wife VERA ROSS (AeC1), Esther (AeC1E) and Margaret (AeC1B).
Please use the BACK button of your browser to return.

© The Ross-ter Collection